Whereabouts of Greek Ambassador to Brazil unknown since Monday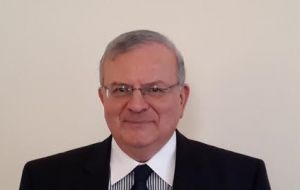 Local police said in a statement on Thursday that Greece's ambassador to Brazil, Kyriakos Amiridis, has been last seen Monday night in Nova Iguacu, 40 kilometers northwest of Rio de Janeiro.
Amiridis, who was on holiday with his family in the area, was expected back at work January 9, according to embassy officials, who had very little to add, other than they were "waiting for further information."
Rio state police has said they have opened a missing person case "to investigate the ambassador's disappearance." The investigation is being led by the missing persons section of the homicide division in the Rio neighborhood of Baixada Fluminense, on the city's west side, a police statement explained.
The ambassador's wife had reported him missing after he left the apartment they were renting in the city of Nova Iguacu, outside Rio, and never came back. She was reportedly unable to get in touch with him.
Amiridis, 59, served as Greece's ambassador to Libya from 2012 to 2016. He is married and has a daughter. He had previously served as Greece's consul general in Rio from 2001 to 2004.