Brazilian banks drastically cutting costs to lower interest rates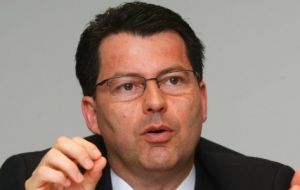 The Brazilian government has not pressured state-run banks to free up credit and reduce their spread, but interest rates are likely to fall as the central bank's benchmark Selic rate continues to drop, state-controlled Banco do Brasil Chief Executive Officer Paulo Rogerio Caffarelli said.
In a briefing with reporters in Brasilia, Caffarelli said the bank will seek to increase their loan spread to be in line with private competitors and boost profitability. However, Caffarelli said an increase in spread can be done without increasing interest rates on loans by reducing costs.
"There is no pressure to lead the drop in interest rates," Caffarelli said. "That wasn't correct in the past and we need to look forward and be consistent. We can't improvise anymore."
In previous administrations, Banco do Brasil and other state-run banks were used as a tool to bolster the economy by increasing the offer of credit and cutting interest rates.
Caffarelli said he expects the economy to recover gradually, but was confident that the bank will improve its profitability by increasing its loan book. He said the bank expects the economy grow 0.7% next year.
Banco do Brasil has launched a plan to cut costs by closing hundreds of agencies and reducing their workforce by more than 9,400 employees.
Caffarelli said banks are willing to lower their rates to be more in line with a Selic that analysts expect to drop substantially next year as inflation slows.
"There is a predisposition in the financial sector to follow the drop in the Selic," he said.
At 13.75%, the Selic is one of the highest reference rates among major economies. Analysts in a weekly central bank poll expect policymakers to slash the Selic to 10.50% by the end of 2017.