Temer will not bail out heavily indebted Brazilian states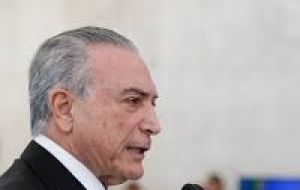 After months of bailing out Brazil's most iconic city and state, Rio de Janeiro will not be getting their debts renegotiated anytime soon. Brazil president Michel Temer said he will veto plans to renegotiate loans with Rio, Minas Gerais and Rio Grande do Sul states. All three states are economic powers of Brazil and have fallen on hard times over the last three years.
The recent bill Temer will reject seeks to extend the life of the loans for another 20 years with Rio being exempt for three years. Rio was the host to the summer Olympics.
Total amounts due were not reported. Brazil does not sell municipal or state bonds to foreign investors. The only risk in those states defaulting is federal funds being exhausted to bail them out at a time when Brazil is barely climbing out of the hole it's dug for itself. Moreover, if those states are forced into Temer's austerity plans to reduce the size of the state, it would lead to higher unemployment, already over 11% in those states. Rio state has already failed to pay salaries of some employees in November.
New negotiations on the debt burdens of the threesome is now on hold and not expected to be resolved until February.