Trump praises Putin for waiting for his inauguration and not reacting to US sanctions
Saturday, December 31st 2016 - 15:45 UTC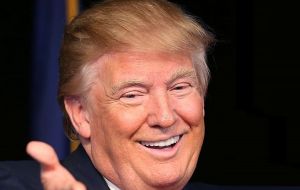 US President-elect Donald Trump on Friday praised Russian President Vladimir Putin for not reacting immediately to Washington's sanctions over alleged interference in his election. "Great move (...) I always knew he was very smart, "Trump wrote on Twitter.
The Republican tycoon, who has promised a rapprochement with Russia when he arrives at the White House on January 20, responded to Putin's surprise announcement of not retaliating against sanctions imposed by the Obama administration on Russian intelligence agencies.
Against the suggestion of Russian diplomat Sergey Lavrov, Putin decided "not to expel anyone", in response to Obama's expulsion Thursday of 35 "Russian agents" in the United States, accused by Washington of interference in the presidential elections.
"We are not going to expel anyone ... We are not going to fall into irresponsible diplomacy," Putin said in a statement, as he dscribed Washington's sanctions as "provocative" and aimed at further deteriorating Russian-American relations.
In any case, Russia reserves "the right to take retaliatory measures" and "will restore Russian-American relations based on the policy of President-elect Donald Trump," Putin said.
The Obama administration accuses Russia of hacking and spreading e-mails from the Democratic Party and its presidential candidate, Hillary Clinton, and her aides to tip the election in favor of Trump, who ended up victorious.
But the next US president has dismissed accusations of electoral interference and denounced them as an attempt by Democrats to delegitimize his triumph.