African migrant's storm wire border fence trying to enter Spanish territory
Monday, January 2nd 2017 - 12:14 UTC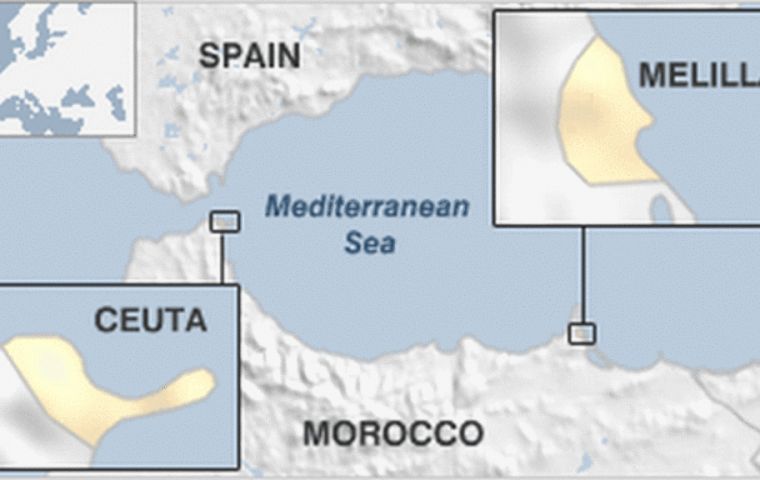 More than 1,000 illegal African migrants tried to enter Spanish territory by scaling a 6 meters wire border fence on New Year's Day. Fifty Moroccan and five Spanish officers were injured as they clashed with armed men carrying metal bars and rocks trying to break through the gates to access the border fences of Ceuta and Melilla.
Both cities are Spanish enclaves, sitting on the northern shores of Morocco's Mediterranean coast. They are the European Union's only land borders with Africa.
On 1 January, the Spanish government said all the African migrants except two, which tried to climb the border wall, were sent back to Morocco. The two migrants which were allowed to enter Ceuta needed hospital treatment.
Local TV station Faro TV showed footage of the migrants reaching the wire fence in the early hours of Sunday before being hoisted down by cranes. Apparently more than 400 migrants attempted to access the fence at Ceuta last month and each year hundreds of sub-Saharan illegal African migrants try to enter Ceuta and Melilla from Morocco.
Last month more than 400 sub-Saharan African migrants successfully climbed over the border fence. Most sub-Saharan African migrants head to Libya to access mainland Europe.
The International Organization for Migration reported some 358,403 migrants and refugees entered Europe by sea in 2016 through 21 December, arriving mostly in Greece and Italy. The Missing Migrants Project reported 4,913 fatalities of men, women and children in the Mediterranean with 13 new deaths reported since December 20.
IOM spokesman Di Giacomo said: "In 2016 the number of arrivals by sea in Italy has kept growing, but the number of migrants dying is up dramatically: more than 5,000 people have died in 2016, compared to 3,777 deaths registered in the same period last year. That is nearly more than 2,000 more than in 2014, another year when over 3,000 men, women and children were lost on this dangerous passage."