Argentina's new economic team aims to fight budget deficit and reform the tax code
Monday, January 2nd 2017 - 05:45 UTC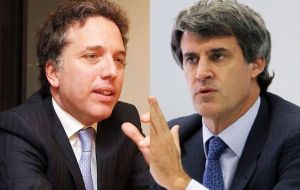 In his first public comments since his appointment, Argentine Economy minister Nicolas Dujovne told a press conference that his main objective would be to continue with center-right President Mauricio Macri's economic policies.
Argentina remains in recession one year after Macri came to power and implemented market-friendly reforms, including letting the peso float and slashing grains export taxes. But inflation, seen ending the year at 40%, has curtailed consumers' purchasing power and a promised flurry of foreign investment has failed to materialize.
Last week Macri dropped Finance Minister Alfonso Prat-Gay, citing differences over management style, and split the ministry into two - a treasury division to be led by Dujovne, former chief economist at Argentine bank Banco Galicia, and a finance division, to be led by current Finance Secretary Luis Caputo.
Caputo said the administration was considering tapping debt markets in January, citing the recommendation of banks. He added that Argentina needs US$22 billion of debt financing for 2017, plus an additional US$21 billion of re-financing.
"There is no problem with the sustainability of the debt," Caputo said.
Dujovne is viewed as more of a fiscal hawk than Prat-Gay, whose 2017 budget project included the 4.2% deficit target, higher than the 3.3% initially proposed.
Macri's deficit-reduction hopes are complimented by an expected increase in public works spending to drive economic growth ahead of legislative elections in October.
"I want to spend much more efficiently," Dujovne said, adding that he would aim to reform the country's tax code to lower taxes, while shrinking the deficit and boosting infrastructure spending. "Now, we're going to try to look very closely at how we're spending."
He did not give a new deficit target, saying that would depend on how much revenue the government received from a tax amnesty that allows Argentines to pay a fee to declare hidden assets without fear of prosecution for tax evasion.
Argentines have declared US$90 billion so far, resulting in government revenue of 82 billion pesos (US$5.17 billion), and can continue declaring through the end of March.