New Year greetings to Falkland Islanders from Tierra del Fuego governor, "your governor"
Tuesday, January 3rd 2017 - 06:56 UTC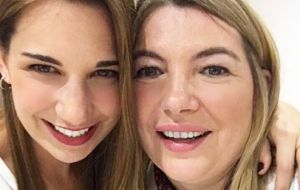 Rosana Bertone, governor of Argentina's extreme south province, officially Tierra del Fuego, Antarctica and South Atlantic Islands, which obviously includes the Falklands, included in her New Year greetings a message to the Islanders calling for peace and understanding leaving aside fear and mistrust.
Ms Bertone admits that 2016 was not an easy year, and has the commitment of finding solutions to inherited problems, for which she calls on the support from her fellow citizens.
After mentioning that Tierra del Fuego for decades had an extraordinary development, the result of geopolitical reasons which consolidated austral sovereignty, now "we need long term strategic planning to continue in that path".

Nonetheless much has been achieved, solving conflicts in peace with dialogue and the institutions. Collective construction also means respect and yielding to the community interest, and thus adherence to the UN sustainable development goals, not a simple goal but as a symbol of commitment to fairness and social justice.
And with this spirit, "I want this message to reach you, you that live in the Malvinas Islands. Because fear and mistrust do not help to find the path of peace and understanding that we all wish and need. I am also your governor and my desire is to do all that I can to achieve your wellbeing. Because I am convinced that the full exercise of our sovereignty includes the profound respect for each of the inhabitants of this Great Province which has been forged and enriched in diversity and hopes of a better future".
The message was released in the social webs together with a picture of the governor and her daughter Macarena, and apparently there was an English version of the greetings.