Malvinas question: Macri should surround himself of prudent, skilful advisors, says ex Army chief
Wednesday, January 4th 2017 - 08:54 UTC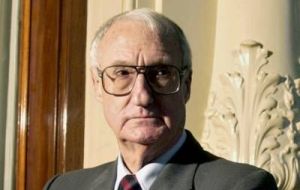 A former Argentine Army chief and Malvinas veteran, General Martin Balza said on Tuesday that president Mauricio Macri's government must "strengthen its dissuasion and negotiation capacities" in the Malvinas Islands question, and should surround himself of prudent advisors on the matter.
"Argentina must strengthen its dissuasion, negotiations and security capacities", and it is imperative to sharpen our thinking to come up with serious, imaginative proposals. "It's not convenient to repeat strategies that enabled the UK to get involved in unilateral political actions to ensure the status quo and refuse to talk about sovereignty" insisted Balza in a radio interview.
Likewise "we must consolidate a domestic front dispossessed of partisan, political and ideological positions, and it is essential to be supported by prudent and highly qualified advisors on the issue"
However the Malvinas veteran, and Army chief under ex president Carlos Menem admitted not having sufficient elements "to reply if the Macri administration was mistaken or not in its current policy towards the Malvinas question".
On the 184th anniversary of the ''British usurpation'' of the South Atlantic Islands, Balza underlined that Malvinas is "a national cause, a reason of State, a national agglutinating feeling, that goes beyond any comprehensible political, ideological or partisan position".
Finally Balza described as a "major error" the fact that the Social Development ministry had omitted the Malvinas Islands in designing a map of Argentina which it shared in social media as part of New Year greetings.
"I must think there was no intent in the mistake, but it is a serious error which must be sanctioned, since it can only be explained as an act of incompetence, distraction, negligence and lack of capacity and supervision, by the design department of the Social Development ministry" concluded the general. .