Summer storm strikes Montevideo and coast line causing chaos and 19 injured
Wednesday, January 4th 2017 - 09:59 UTC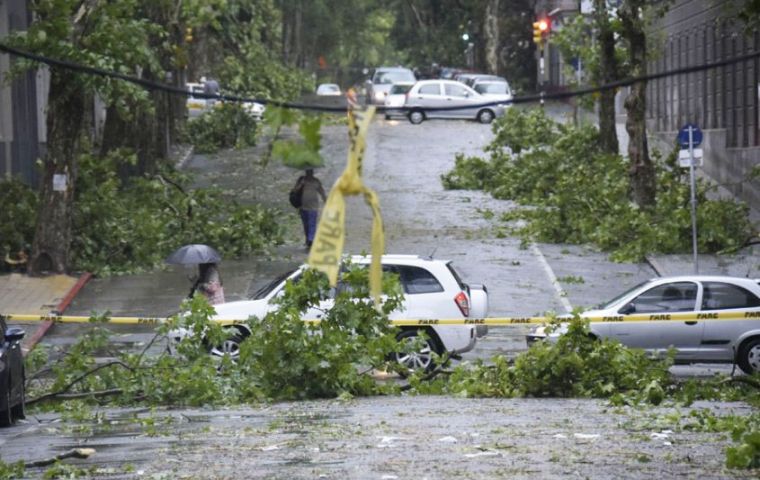 At least 19 people injured one of them seriously, was the result of the summer storm with winds of up to 120km that struck the Uruguayan capital Montevideo, and the eastern coast line to almost the border with Brazil, some 350kms away. The report from the national Healthcare system, SAME, said that most patients are from Montevideo and three from the adjoining seaside resorts.
The storm of pouring rain and swirling winds reached Montevideo after 11:00 Tuesday morning, and caused minutes of chaos as it moved across the city eastwards lifting trees and columns, some crashing on parked cars, interrupting traffic, blowing roofs and leaving thousands of houses without power.
During the three hours of storm, the Emergency 911 received over 1.200 calls, mostly related to flooding, destroyed trees and power lines, according to the Ministry of Interior.
The latest report from the Uruguayan Meteorology Institute, Inumet, a second storm coming from the west in Argentina and heading east was expected in the northern half of Uruguay. A red alert of maximum risk was announced with forecasts of 120km winds and 50 to 80mm of flash rainfall.
The port and airport of Montevideo were temporarily closed, and the power company reported some 30.000 homes in different towns and districts were left without power.
This has been a particularly punishing period for Uruguay, where summer tornadoes are not an exception, but what is surprising is the recurrence.
In the last three months there have been at least five of these climate phenomenon with serious damage to property and infrastructure.