Falkland Islands marks calendar of 2017 key anniversaries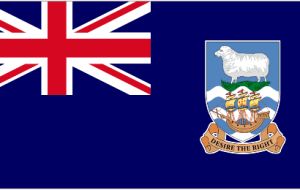 The Falkland Islands government, FIG, has recalled that 2017 marks a number of key anniversaries in the Islands, including the 35th Anniversary of the Falklands War. There is currently a small working group looking to coordinate remembrance events in Stanley, though much of what is planned will be as normal and will continue to be due to the work done year-on-year by a wide range of volunteers and groups.
The list at the bottom of the piece excludes many of the standard events (e.g. Landing Day, Remembrance Sunday etc.) which will continue as normal. There will also be a range of visits by groups of 1982 veterans throughout the year, usually in groups of 8-12 with roughly 120 to visit in 2017.
In addition, FIG are currently working on a small booklet chronicling the development of the Falkland Islands over the past 35 years. This will be published locally and launched officially in London in 2017. There is also due to be a related Falkland Islands photographic exhibition hosted in a London Gallery in the w/c 19th June. The exact details of this will be announced in due course.
Updates for the second half of 2017 will be published later in the year. More details will be released as plans become firmer, but the small calendar below will hopefully give the community some key dates.
25th Feb, 30th anniversary of the Fishery Zone Opening;
26th Feb, 125th anniversary cathedral service;
1st April, SAMA82 AGM;
1st April, National Arboretum Falkland Islands Service;
4th April, FVF Foundation Reception;
16th April, Tabernacle 125th anniversary service;
May 20/21st, Freedom Parade/Memorial service;
11th June, Annual service at Pangbourne Chapel;
13th June, Evening Reflection;
13th June, FIG Reception;
14th June, Liberation Day Events;
14th June, Liberation Ball.