Secretary of State nominee closer to US Senate thinking than to Trump's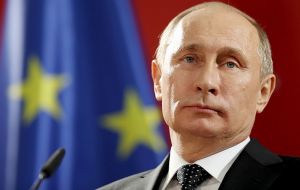 Donald Trump's nominee for secretary of state signaled he is prepared to diverge from the US president-elect on numerous key issues, notably nuclear non-proliferation, climate change and Russia, which he branded a "danger."
Despite accusations of being too cozy with the Kremlin, former ExxonMobil chief Rex Tillerson told skeptical senators at his confirmation hearing -- which stretches into Thursday -- that he would take a firm line with Moscow as he contradicted Trump's oft-proclaimed determination to improve ties with America's former Cold War foe.
With Trump set to take office on January 20, the billionaire real estate mogul aims to enter the White House with several of his top lieutenants confirmed and in position, despite Democratic calls to slow the process and allow broader study and questioning of nominees.
In his marathon testimony, Tillerson told the Senate Foreign Relations Committee that it remained vital for Washington to be "pursuing nonproliferation," and he expressed a desire for the US to "maintain its seat at the table" with regard to climate talks.
On trade, his position countered that of Trump, who has vowed to rip up the Trans-Pacific Partnership, a massive free-trade agreement negotiated by 12 countries, on his first day in office. "I do not oppose TPP," Tillerson said.
The strongest break though regarded Russia. His testimony came against a backdrop of controversy over US intelligence conclusions that Russia conducted election-related cyber-attacks against US democratic institutions.
Tillerson said he believed it was "a fair assumption" that Russian President Vladimir Putin would have ordered his nation's meddling in the US election. "Russia today poses a danger, but it is not unpredictable in advancing its own interests," he said.
While Tillerson signaled his intention to be "clear-eyed" about Moscow, he refused to commit to economic sanctions against Russia.
In a startling exchange with Senate Democrat Robert Menendez, an architect of previous sanctions, Tillerson revealed he has not yet discussed with Trump the incoming administration's position on Russia.
"That's pretty amazing," Menendez said.
Tillerson, whose entire professional career has been in the energy industry, has faced criticism for his business relations with Putin and other authoritarian leaders. But the 64-year-old stressed that as Washington's top diplomat; he will conduct a more robust US foreign policy than during President Barack Obama's presidency.
Trump says he would like closer US ties with Russia, but Tillerson appeared keen to assure lawmakers he would be either an adversary or a partner to Moscow, but not a friend.
"Our NATO allies are right to be alarmed at a resurgent Russia," he said, voicing frustration that Obama did not take a more "forceful response" when Russia annexed Crimea. The position diverges from that of Trump, who has waved off concerns about Putin's aggressions in Ukraine.
Tillerson also hit out at China, warning that the Asian power pursues its "own goals" and has not sufficiently helped rein in a nuclear-armed North Korea. "It has not been a reliable partner in using its full influence to curb North Korea," he added.
Tillerson, however, said disagreements with Beijing on some issues should not preclude "productive partnership" on other matters.
The Senate's Democratic minority spent hours digging into Tillerson's record.
Senator Ben Cardin warned that operating an oil firm was far different than safeguarding American interests worldwide, and he questioned Tillerson's capacity to handle global crises, particularly with Russia.
"It cannot be business as usual," Cardin insisted.
Until he stepped down from ExxonMobil on New Year's Eve, Tillerson was also director of Exxon Neftegas, an affiliate that operates the Sakhalin-1 field in Russia's Far East.
The US parent firm was chasing greater investments in Russia, including Arctic fields, and Tillerson was a familiar and popular figure in Moscow, awarded an Order of Friendship medal by Putin in 2013.
Tillerson was a staunch opponent of US and international sanctions against Russia for its aggressive behavior in Ukraine, where it annexed the Crimea region.
Republican Senator Marco Rubio asked him if he believed Putin is a "war criminal" for the Russian military's attacks on Aleppo, Syria, and if Saudi Arabia was a human rights violator. Tillerson said he needed more information before making such determinations.
If just three Republicans jump ship, his nomination could fail, despite support from party heavyweights. Rubio sounded openly doubtful about supporting the nominee.