Argentina announces ambitious financial program; road show begins Monday in London
Friday, January 13th 2017 - 11:04 UTC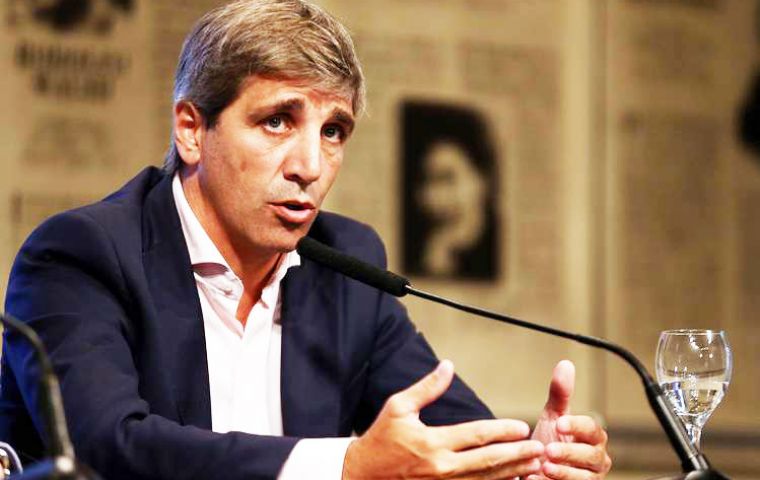 Argentina struck an 18-month financing deal worth US$6 billion with six banks on Thursday, Finance Minister Luis Caputo told reporters, saying the government planned to tap international capital markets for US$10 billion in 2017. Sovereign bond issuance will start on Jan. 19, with a sale of US$3 billion to US$5 billion in U.S. dollar-denominated paper.
The sale will kick off an international financing program under which Argentina expects to sell US$7 billion of dollar bonds and US$3 billion of bonds in other currencies, Caputo told a news conference. He did not discuss specifics about bond maturities or interest rates.
Argentina also plans nearly US$4 billion in multilateral borrowing from institutions including the World Bank and Inter-American Development Bank.
"It's very positive news for us," Caputo said of the bank financing agreement, which he added would be backed by the country's Bonar 24 bonds. The repo deal was priced at three month Libor plus 290 basis points.
The six banks chosen for the repo deal and dollar bond sale were Santander, BBVA, Citibank, Deutsche Bank, HSBC and JP Morgan.
Argentina also plans on Jan. 19 to sell US$1 billion to US$2 billion equivalent of peso-denominated debt subject to local law, Caputo said. The sale will be part of a program in which the government plans to issue US$14 billion equivalent of peso-denominated obligations in 2017.
He will start a three-day road show on Monday in London, followed by meetings with investors in Boston, Los Angeles and New York.
"Sustainability is far from being a problem," Caputo said referring to Argentina's ability to repay, in a preview of his sales pitch to prospective bond buyers.
Argentina's central bank kept its policy rate unchanged at 24.75% on Tuesday. Inflation last year was about 40% with the economy in recession. Growth is expected to resume this year and the bank has an inflation target of 12 to 17%, though economists expect it to exceed 20%.