Eight of the richest people on earth own as much combined wealth as half the human race
Tuesday, January 17th 2017 - 10:19 UTC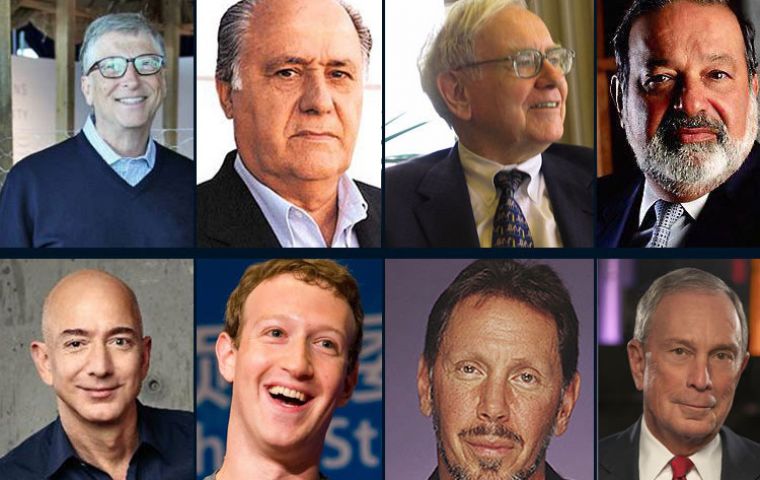 Just eight of the richest people on earth own as much combined wealth as half the human race. The charity Oxfam does the math each year and publishes its results just in time for the World Economic Forum in Davos, Switzerland, where many of the spectacularly wealthy are often among the attendees, along with diplomats, political figures, and business and cultural leaders.
The Oxfam report on inequality is on the agenda for discussion at the forum. This year's edition is a notable change from last year when it was reckoned to take 62 of the superrich to match the assets of the 3.6 billion people in the poorer half of mankind.
Oxfam bases its figures in part on Forbes's annual list of billionaires and the magazine's estimates of their wealth. This year, Oxfam said, new data gathered by Credit Suisse about the global poor led it to lower its estimates of their assets, and revise its findings about how few rich men — the eight are all men — were needed to equal the wealth of 3.6 billion people.
Here are the eight, with their net worth as estimated by Forbes, whose annual survey depends on a range of sources:
Bill Gates. the founder of Microsoft, led the list with a net worth of US$75 billion. He is scheduled to speak at the forum in Davos this year.
Amancio Ortega Gaona, the Spanish founder of the fashion company Inditex, best known for its oldest and biggest brand, Zara, has a net worth of US$67 billion.
Warren E. Buffett, the chairman of Berkshire Hathaway, US$60.8 billion.
Carlos Slim Helú, the Mexican telecommunications magnate, US$50 billion.
Jeff Bezos, the founder of Amazon, US$45.2 billion.
Mark Zuckerberg, Facebook's creator, US$44.6 billion.
Lawrence J. Ellison, the founder of Oracle, US$43.6 billion.
Michael Bloomberg, the former mayor of New York and founder of the media and financial-data giant Bloomberg L.L.P., US$40 billion.
Oxfam said new data from its report "An Economy for the 99%," shows that between 1988 and 2011, the incomes of the poorest 10% rose by just US$3 a year, while incomes of the richest 1% increased 182 times that much. In 2015, the world's richest 1% held on to their share of global wealth, owning vastly more than the other 99%, said the charity.
Oxfam blames that gap on corporate tax dodging, the squeezing of workers and producers and an overall obsession by companies with maximizing shareholder profits. Crony capitalism also gets a mention, and the charity said Alphabet Inc. GOOGL, the parent company of Google, has become one of the biggest lobbyists in Washington.