Any future relationship Gibraltar seeks with EU post-Brexit "will have to be agreed by Spain"
Monday, January 23rd 2017 - 18:20 UTC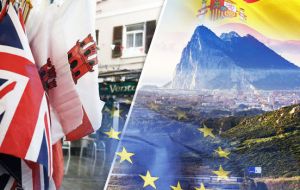 Spain will oppose any special treatment for Gibraltar or Scotland as part of the Brexit process, the ruling Partido Popular spokesman in the European Parliament said this week. During a speech in Strasbourg, Esteban Gonzalez Pons said only the UK could negotiate its withdrawal and that any deal would "affect the entirety" of the country.
"We have to discard any partial or specific solutions or agreements for Scotland or Gibraltar," he said. "Spain would always be opposed to that."
On Thursday in Madrid, Alfonso Dastis Quecedo, Spain's Minister for Foreign Affairs, again referred to Gibraltar during a breakfast briefing to the Foro España Internacional.
Addressing diplomats, businessmen and journalists, he restated Spain's traditional position on territorial integrity and said that once the UK left the EU, so too would Gibraltar.
"We believe that if they want to continue to benefit from the rights and advantages of being in the European Union, then the extremely generous co-sovereignty proposal is the best option," he said.
"If the United Kingdom doesn't want this, if the inhabitants of Gibraltar don't want this, and they convince the United Kingdom that this should not go ahead, then our starting position is equally clear."
"Any future relationship that Gibraltar or its inhabitants seek with the European Union will have to be agreed by Spain."
"I don't think this is abnormal or extraordinary." He added: "When we joined the European Union, alongside the accession agreement there was a bilateral agreement between the United Kingdom and Spain relating to Gibraltar."
"The same thing will happen when the United Kingdom leaves the European Union."
In related news it was reported that Gibraltar Chief Minister, Fabian Picardo, has been invited to give evidence to the House of Commons Select Committee on Exiting the European Union. According to No. 6 Convent Place, Mr Picardo will appear before the Committee on Wednesday January 25.
He will be accompanied by Deputy Chief Minister Dr Joseph Garcia, who is also Minister for Europe and for Exiting the European Union, and Attorney General Michael Llamas. The Committee is chaired by Labour MP Hilary Benn and is made up of 25 Members of Parliament from all political parties at Westminster.