"Dancing for Falklands", MLA Gavin Short takes on Argentina's most mediatic personality
Tuesday, January 24th 2017 - 11:16 UTC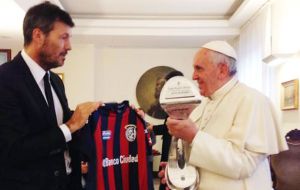 Falkland Islands lawmaker, MLA Gavin Short has picked a dispute with possibly the most mediatic character in Argentina, a simple soccer commentator who in three decades has built a powerful entertainment corporation and is the showman of one of the evening programs which for years has had the highest ratings.
His name Marcelo Tinelli, and so influential that any Argentine politician with aspirations has had to turn up or be invited to his show, such was the case of the last three main presidential hopefuls, Mauricio Macri, Daniel Scioli and Sergio Massa. All attended with their wives and had to display their humor in quick off the cuff replies, and obviously display dancing abilities, while sharing wives with clowns who emulate the candidate-husbands.
The issue of dispute with MLA Gavin obviously the Falkland Islands, Argentina's sovereignty claim and the fact that Whastapp included in its emitcones the flags of the Falklands, South Georgia and South Sandwich Islands. How dare they, "Is it true that Whatsapp has incorporated the flags of Falkland Islands, South Georgia and South Sandwich Islands? These islands are Argentine, and Malvinas are Argentine now and forever"
But MLA Gavin Short twitted back, "I have just looked outside my door & can report that the #beautiful #free #Falklands is not argie :-)" and later added , "the #Falklands has a lovely flag don't you think ? It's an old story though. You should really keep up with the news :-)"
As can be expected Tinelli's outburst had a strong echo in Argentina, given his daily presence if not in the screen, in magazines and gossip columns. However some recalled that "suddenly" Marcelo wakes up to the dispute, "nothing of this happened in previous governments".
However what is interesting besides MLA Gavin's provocative if not cheeky comments, is the fact that Marcelo Tinelli is closely linked to the premier league team of San Lorenzo of which Argentine Pope Francis is a fan, plus that he is running for president of the Argentine Football Association, and there have been intense rumors for some time that he might be tempted to try politics.
He has the charisma, media (his entertainment corporation has an annual turnover close to a billion dollars), means and he is a standing reference with the Dancing for a dream competition and spectacular display of dancers and on-stage qualifiers' drama.
Some analysts in Argentina believe this first incursion and interest in the Malvinas issue could be a trial balloon of his support in other fields away from television studios, football and beautiful girls. Keep pushing Gavin, might be helping to incubate a president.