Trump keeps his promise: dumps TPP and pledges to lower corporate taxes to 20% from 35%
Tuesday, January 24th 2017 - 18:40 UTC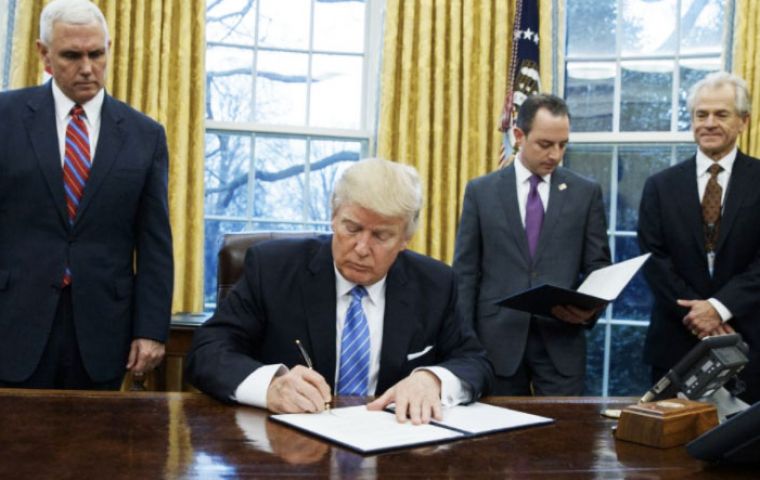 President Donald Trump has fulfilled a campaign pledge by signing an executive order to withdraw from the Trans-Pacific Partnership (TPP). The 12-nation trade deal was a linchpin of former President Barack Obama's Asia policy.
"Great thing for the American worker what we just did," said Mr Trump as he dumped the pact with a stroke of a pen. He also cut funding for international groups that provide abortions, and froze hiring of some federal workers.
Mr Trump's executive order on TPP was largely symbolic since the deal has not been ratified by a divided US Congress. During his presidential campaign, he criticised the accord as a "potential disaster for our country", arguing it harmed US manufacturing. His action won some plaudits from the left as well as the right.
Democratic Senator Bernie Sanders told the BBC he backed it because trade deals like this have been a "disaster" and cost millions of jobs.
On Monday evening, Mr. Trump's pick to be secretary of state, Rex Tillerson, was approved by the Senate Foreign Relations committee, and now requires confirmation from the full Senate. And the new CIA boss will be Mike Pompeo, following a Senate vote of 66 to 32, in his favour.
TPP is the trade deal, which covered 40% of the world's economy, was negotiated in 2015 by nations including the US, Japan, Malaysia, Australia, New Zealand, Canada and Mexico. TPP's stated aim was to strengthen economic ties and boost growth, including by reducing tariffs. It included measures to enforce labour and environmental standards, copyrights, patents and other legal protections. The agreement, backed heavily by US business, was designed to potentially create a new single market likened to the EU. Critics argued it was a not-so-secret gambit to box in China, which is not part of the agreement.
Mr Trump also signed an executive action placing a hiring freeze on non-military federal workers. After meeting business leaders earlier at the White House, Mr Trump pledged to lower corporate taxes to 15% or 20%, from the current 35%, and slash regulations by up to 75% if they keep jobs in the US.
Mr Trump - whose protectionist rhetoric sent the US dollar falling - also met labour leaders later on Monday.Some of the measures he announced on Monday fulfill "Day One" pledges he made as a candidate in a speech in Gettysburg in October.