Ushuaia out off internet: beavers cut the optic fiber to build dens
Tuesday, January 24th 2017 - 12:10 UTC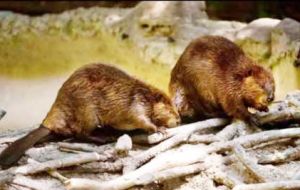 Ushuaia, capital of Tierra del Fuego in the extreme south of Argentina was left without internet and cellular phone communications most of last Friday because beavers had bitten pieces of the optic fiber for their dens.
According to Telefonica de Argentina close to the town of Tolhuin, there was "a double cut" in the outlay of the optic fiber caused by beavers, which also used the cut pieces to build dens and dams in nearby lakes.
"Once the inconvenience was detected the company sent emergency and technical units for the repair task, as well as additional measures to prevent a repeat of this sort of attacks on the optic fiber network", indicated the company.
Beavers are invasive to Tierra del Fuego and are considered a damaging and harmful species, and the Argentine government through the Environment Ministry, the Tierra del Fuego sustainable development and climate change secretariat have implemented a plan to eradicate beavers introduced back in 1946 by the Argentine navy with the purpose of developing a skin and fur industry.
However the lack of natural predators plus conservation and protection during decades saw an explosive growth of beavers' numbers, which cut trees to build dens, flooded whole forests and even modified the course of some rivers.
It was only sixty years after the introduction of 20 specimens that the beaver canadensis was officially declared harmful and thus the Argentine national and provincial governments have the responsibility of eradicating or controlling them.
In the mid nineties it was discovered that beavers somehow had managed to cross the Magellan strait and reach Argentine continental territory. According to the latest estimative census the beaver population in Tierra del Fuego is close to 150.000