Argentina cautious about Trump's administration impact on bilateral trade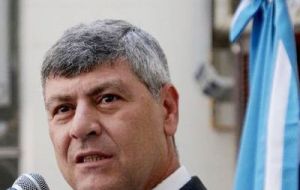 Argentina's trade relationship with the United States will not suffer an immediate negative impact with Donald Trump as president, but it remains to be seen how his measures will shape the world economy, according to the Argentine ambassador in Washington, Martín Lousteau.
For his part, the Minister of Agroindustry, Ricardo Buryaile, was confident that there would be no problems with the entry of lemons and meats into the US, approved during the Obama administration. "I think there will be no issues at all, because both the sanitary and political procedures were carried out," stressed the official.
In his analysis, Lousteau stressed that "I am convinced that there will be no direct impact for Argentina, although there may be some indirect consequences, as Trump's policies will affect the world's economy. For example, there may be less trade, reductions in the prices of commodities, higher interest rates or a strengthening of the US dollar."
In that context, the ambassador in the United States warned that there could be problems for Argentina, because the country "still relies heavily on the Treasury and on the income from retentions (to exports), and also needs to be funded, because it still has a very large deficit."
However, Losteau highlighted that "Argentina has a less negative initial agenda with the United States compared to other Latin American countries," and recalled that it does not share borders with it. Consequently, Argentine immigrants are neither numerous, nor do they have a very low economic status. There is also no free trade agreement and the exchange rate is very low.
"In the immediate bilateral relationship, I do not expect much of an impact. We must see what happens in the world later, but I do not see a negative agenda".
Likewise, the Minister of Agroindustry said that it will be necessary to analyze whether the economic measures announced by Trump regarding its relationship with other markets in the world are "a threat or an opportunity" for Argentina, and recalled that trade in domestic products is tremendously low, worth about US$ 1 billion."
Jorge Neme, Secretary of International Relations of the Government of Tucuman, clarified that "the US government's decision to open the market for Tucuman's lemons should not be affected by this new process, since its approval relied on phyto sanitary issues which have already been resolved with the publication of the export protocol."
Moreover, the official pointed out that the next steps in the negotiations for the re-entry of the citrus fruit would correspond to the private sector.