Dow Jones closes past a historic 20.000 point marks on Trump's actions
Thursday, January 26th 2017 - 08:56 UTC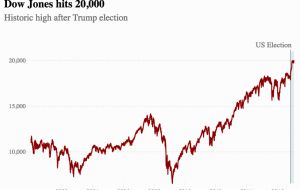 The Dow Jones Industrial Average (DJIA) surged and closed past a historic 20,000 points mark on Wednesday (25 January), on strong earnings data from major constituents and US President Donald Trump's reaffirmation of his pro natural resources stance which sent related stocks higher both overnight and in early trading.
"Clarity is the markets' oxygen. The more President Trump provides, the more Dow 20,000 moves to the rear view mirror — Dow 21,000 will soon become the next media obsession," said Quincy Krosby, market strategist at Prudential Financial, in emailed comments. The new president has said he wants to cut corporate taxes and loosen regulations in moves that could potentially help corporate earnings.
The index now stands at over three times the low it reached in March 2009, when it traded just above 6,600 points in the aftermath of the global financial crisis.
The rally was led by Alcoa (+1.48%) after it posted an upbeat forecast, in tandem with Boeing (+2.68%) which unveiled better-than-expected earnings in the final quarter of the year.
Furthermore, US automakers were among pre-market risers, adding to Tuesday's gains after Trump told bosses of the car manufacturers he will work to ease environmental regulations and "cut corporate taxes."
Trump also sent resource stocks higher overnight after he backed the construction of the controversial Keystone XL and Dakota Access pipelines, provided "American steel" is used in both projects.
The US blue chip index approached the 20,000 mark in December for the first time in its history, but breaching it proved elusive during the festive period and early in the New Year, before a flurry of positive vibes from constituents and Trump's pro-energy sector stance finally ferried it over the line during Wednesday's trading.