White House considering a 20% tax on all imports to United States
Friday, January 27th 2017 - 11:23 UTC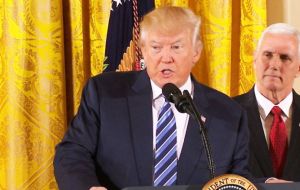 With the conflict with Mexico escalating the White House on Thursday appeared to endorse a 20% tax on all imports to the United States, only to insist a few hours later that it was not endorsing the plan.
Congressional Republicans have proposed the import tax as part of a broader overhaul of corporate taxation, and Sean Spicer, the White House press secretary, told reporters that revenue from the tax would cover the cost of a wall on the United States-Mexico border.
Representative Kevin Brady, the Texas Republican who authored the plan, told Fox News Thursday afternoon that President Trump appeared to be on board with it after an appearance by Mr. Trump at a retreat for congressional Republicans in Philadelphia.
But later on Thursday, Mr. Spicer convened reporters again to say that the tax was just one option under consideration to pay for the wall. Reince Priebus, the president's chief of staff, told NBC News that the proposal was just one in a "buffet" of options.
The confusion caused the Mexican peso to bounce sharply with each new development.
President Trump alluded to the idea of a border tax, saying, "We're working on a tax reform bill that will reduce our trade deficits, increase American exports, and will generate revenue from Mexico that will pay for the wall if we decide to go that route."
After the speech, in a brief, impromptu news conference as Mr. Trump flew back to Washington, Mr. Spicer told reporters that the president now favored the plan to impose a 20% border tax as part of a sweeping overhaul of corporate taxation. Only last week, Mr. Trump had dismissed the tax as too complicated, favoring his own plan to impose a 35% tariff on manufactured goods made by American corporations in overseas factories.
The House proposal, which Mr. Trump had previously criticized as too complicated, would not actually increase federal revenue. The gains from taxing imports would be offset because the government would stop taxing exports and would lower the corporate tax rate.
In addition, the import tax would not be collected from Mexicans. It would be collected from companies that sold Mexican products in the United States. Besides Mr. Trump would need new legislation to enact the proposal.
If Mr. Trump does eventually announce his support for the tax plan, it could have a broad impact on the US economy, and its consumers and workers, by sharply increasing the prices of imported goods or reducing profits for the companies that produce them. Other nations could retaliate, prompting a trade war that could hit consumers around the globe.
Retail businesses could see their tax bills surge, said David French of the National Retail Federation, who predicted that those costs would be passed on to consumers. He called the idea "very counter to the way consumers are feeling at the moment."