Falklands Today roundtable discussion in Trinidad & Tobago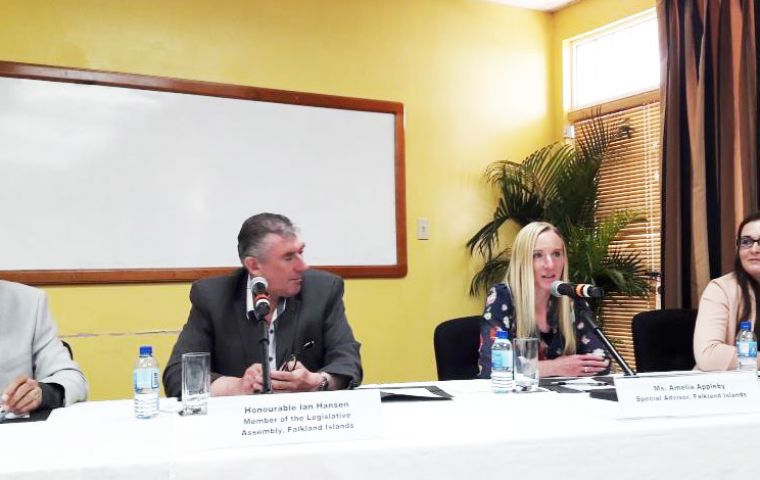 The Reality of the Falkland Islands Today was the motive of a roundtable discussion at the University of West Indies, St Augustine campus in Trinidad & Tobago. The event took place on Thursday at the Sir Arthur Lewis Institute of Social and Economic Studies, SALISES and was chaired by Acting Director Dr. Roy McCree.
The lively discussion included members of the Falklands delegation attending the annual Trinidad Energy Conference (23/25 January), which is headed by Member of the Legislative Assembly, Ian Hansen, plus Special Advisors Victoria Collier and Amelia Appleby.
The Falklands government has been attending the Trinidad energy conference for several years and also participates with an information stand. The Trinidad government is supporting the Falklands oil industry with advisors and training scholarships, and sharing their long experience, ups and downs, benefits and risks, of exploiting the resources.
The Trinidad and Tobago Energy Conference is the premier Energy Conference in the Caribbean and promotes vigorous debate and discussion among leaders of industry, Government and academia.
Delegates from the US, the United Kingdom, Barbados, Guyana, Suriname, Venezuela, China and the Falklands Island and the Dominican Republic, are participants.