Damaged cruise vessel ready to leave Ushuaia on a piggy-back trip to Europe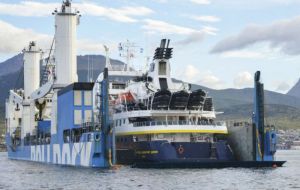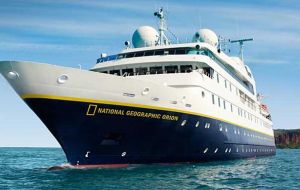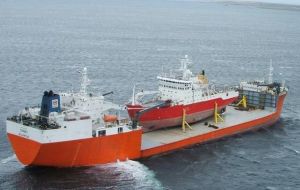 A major rescue operation took place in Ushuaia, Argentine Tierra del Fuego when a cruise vessel from National Geographic, which was non operational since limping back from Antarctica a month ago was hauled on to a special tug-carrier and is now preparing for its piggy-back trip to a Dutch ship yard for repairs.
The National Geographic Orion, 103 meters long and with a passenger and crew capacity of 200, lost power from its main engine while returning from an Antarctic tour and had to steam back on an auxiliary turbine, at five knots across the Drake passage, finally arriving in Ushuaia 29 December.
However once safely back it turned engine damage of NG Orion was far more complicated than expected and Antarctica tours had to be cancelled while she remained idle in Ushuaia for almost a month waiting for the haul on operation.
The National Geographic was lifted onto the Dutch flagged Rolldock Storm, one of two similar vessels in the world equipped with huge cranes and three different options for loading a stranded ship, including half submersible. In effect the 151 meters long carrier flooded part of its bow allowing the cruise vessel to be tugged on to the main structure.
The whole operation in excellent climate conditions took seven hours and in a couple of days time the two-vessels should be sailing back to Europe, according to an Argentine Coast Guard report.
"It's the first time I've seen such an operation given the size of the vessels involved. Thankfully weather conditions were perfect and it all worked out smoothly", said Andres Giraudi, head of Ushuaia Coast Guard operations.
However Giraudi said that two coastguard patrols, "Rio Uruguay" and "Canal Beagle" were on standby, together with several rafts and divers, but "the Dutch vessel is used to these operations and has a very sophisticated equipment".
National Geographic sources said the cruise vessel is estimated to be undergoing repairs well into April, and thus several trips have been rescheduled and passengers have been refunded for their reservations. National Geographic Orion was scheduled to call in Ushuaia ten times this season.
However it must be said that despite Argentine Coast Guard officers comments, this is not the first time a similar operation of such proportions takes place in the South Atlantic. In effect in April 2009, badly damaged HMS Endurance arrived at Portsmouth aboard a heavy lift ship on an 8.000 mile piggy-back voyage from the Falkland Islands.
The Ice Patrol was operating in the Magellan Strait before Christmas 2008 when a faulty seawater valve allowed her engine room and a significant proportion of C Deck to flood. She lost all propulsion and most auxiliary systems. Left adrift she was rescued by the Chilean Navy and later towed to the Falkland Islands
In March 2009, in the Falklands, she was loaded on to the 53,800-ton semi-submersible heavy lift ship Target and in April floated off in UK in an operation which took 20 hours. HMS Endurance was finally scrapped given the repair costs estimates of almost £30 million. The Ice Patrol was replaced by HMS Scott and later by a second HMS Endurance, originally a Norwegian ice breaker.