St Helena project bans longlines and will only allow tuna fishing one at a time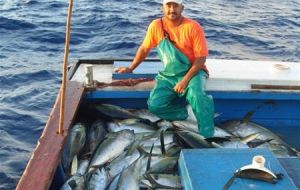 In order to protect their precious marine resources, the authorities of St Helena have launched a project that prohibits all types of destructive fishing gear in a wide sea area, and that only allows the fishing of tunas one at a time.
The island, which is a British Overseas Territory and has a maritime zone of 172,439 square miles of open-ocean habitat, is situated within a region rich with marine fauna and has a long tradition of responsible small-scale pole-and-line fishing where tuna are caught one-at-a-time.
However, its resources, on which many islanders depend, are constantly at risk of being overfished by foreign fishing vessels throughout the Atlantic Ocean. Besides, the low prices fishermen receive for their catch at the docks, making it difficult for fishermen to earn a decent living.
The project, which has just been launched between the International Pole & Line Foundation (IPNLF), the St Helena government, the St Helena Fisheries Corporation and supported by local fishermen, is aimed at protecting the fishery and strengthening the returns to this remote island community.
Through this program, a conservation area throughout the entire island will be established to shield a vast ocean area from harmful fishing activities that will provide valuable protection for the local community's low-impact, socially responsible tuna fishery.
IPNLF and local partners will create policies to promote and protect St Helena's unique ecosystem, as well as the sustainable small-scale tuna fishery that has been part of island community for decades.
Over the next three years, the partnership will work with local government to ensure polices are adopted and implemented that ban all destructive fishing gears; enhance management; and strengthen monitoring, control, and surveillance to prevent illegal fishing.
In turn, the scheme will establish best-practice traceability, transparency and data recording systems and improve safety-at-sea.
The project partners plan to communicate the accomplishments of this fishery to a global audience, inspiring governments and coastal communities with this model that rewards low-impact fisheries and marine conservation.
"The key to its success will be ensuring the fishing communities and the island as a whole benefit from these commitments and we propose to do just that," Adam Baske, IPNLF's Director of Policy & Outreach, said.
For his part, Derek Henry, Acting Director for the Environment and Natural Resources Division of the St Helena Government, added, "As an indication of our commitment to this project, the government and local stakeholders have already agreed to ban longline fishing for the duration of this project."
The project is being supported by Oceans 5 – an international funders' collaborative inspired by opportunities that can bring lasting benefits to coastal communities. (FIS)