Falklands issues to be addressed on Tuesday by Argentine legislative delegation in London
Tuesday, January 31st 2017 - 10:13 UTC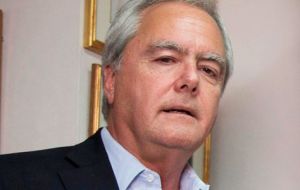 Boosting trade, credit rating, fighting corruption, were among the issues discussed on Monday by the Argentine delegation of all-party lawmakers visiting the UK. Falklands, additional flights and hydrocarbons in the South Atlantic are scheduled to be addressed on Tuesday when the members of Congress meet with Foreign office minister Sir Ian Duncan, said Federico Pinedo, Senate whip and head of the delegation.
"We first met with Deputy trade minister Greg Hands and talked about the Argentine economy, credit rating and how to increase trade, including UK capital good exports to help with the recovery of our development potential", said Senator Pinedo.
He added that a proposal from the trade minister for combating corruption was "very interesting", including helping with knowhow and funds.
Other areas of interest were Argentina's bid to become a member of OECD, investments mainly energy and infrastructure, and how Argentina and the Argentine congress can help to address the post-Brexit.
London Lord Mayor Alderman Charles Parmley was also in the agenda of meetings in representation of the city's financial hub, with strong prospects that he will be visiting Argentina sometime later this year.
"In the UK they see important changes taking place in Argentina, and are very hopeful, and the fact that we are an all-party delegation is most significant since for investors political stability and a no corruption environment are essential" indicated Pinedo.
Likewise London feels there is a great opportunity to develop the Argentine financial market, as the economy stabilizes, expands and grows, which means greater financing will be needed.
Further on Senator Pinedo underlined that the Falklands/Malvinas question was not addressed, or additional flights or hydrocarbons exploitation, since "most certainly these issues will be discussed on Tuesday when we meet with Alan Duncan".
Regarding issues of energy and the huge Vaca Muerta shale deposits in Patagonia Pinedo explained the extent and details of the understanding reached between companies and unions for a framework to support normal development of activities. It was also mentioned that some British companies had successfully participated in the bidding process for renewable energy projects and most probably will also be attending the next round in April.
However Pinedo pointed out that the visit in the framework of the Inter parliamentary Union, and with Lower House and Senate members, from the leading political parties also wanted to emphasize what he described as "legislative diplomacy", a parliament to parliament direct link and exchanges.
On Tuesday the delegation is also scheduled to hold a meeting with Argentine ambassador in London, Carlos Sersale Di Cerisano. From London the Argentine lawmakers will be moving to Scotland to meet peers, visit the Edinburgh University and companies which have investments in Argentina.