Scholarship in Uruguay available for a Falklands student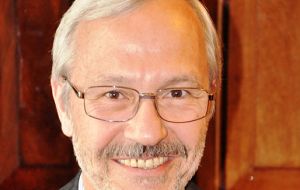 American Field Service (AFS) is offering a scholarship to an outstanding student from the Falkland Islands to take part in a funded exchange program in Uruguay. The scholarship is collaboration between the Falkland Islands Government and AFS which MLA Barry Elsby has been working on.
The aim of the program is to create an international experience, "promoting intercultural education through immersion in a different culture."
AFS have been developing cultural exchange programs for young people, teachers and families with a structure of 700 volunteers, and more than 40,000 exchanges worldwide last year.
AFS is defined as an inclusive community of global citizens: students, families, volunteers, schools and other determined to build bridges between cultures.
For more information contact MLA Elsby or Valentina Koifman on valentina.koifman@afs.org
The exchange with Uruguay follows a cultural cooperation MOU recently signed by the Falklands government with the Chilean British university, UCBC, in Santiago, Chile.
Pedro Pfeffer, President of the Executive Council at UCBC, said the agreement followed a year of discussions and a visit to the Falklands. It will enable students studying English at the university to spend a month or more in the Falkland Islands as part of their degree.
María Cristina Brieba, UCBC Vice-Chancellor, commented that the Falkland Islands invest heavily in Education and, "being an English speaking community off the tip of South America, was uniquely placed to help our students".
UCBC is accredited by many universities in the UK, including Oxford and Cambridge, and hosts their Spanish language students. They specialize in teaching English to Chilean students who wish to be translators, interpreters or to work in any number of careers where fluency in English is essential.
The MOU will enable the Chilean University to send a small number of their students to the Falklands each year to improve their English, each student spending between one and three months here.
MLA Elsby, who signed the MOU Jeff Sessions, said the University will cover the costs of flights and insurance and employers would be asked to pay a token wage of approximately £250 per month. (Penguin News)