Industrial output in Brazil dropped 6.6% last year compared to 2015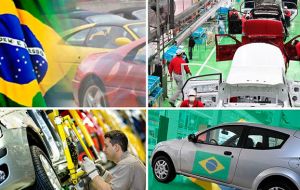 Brazil's industrial output rose in December at its fastest monthly pace in two and a half years, in a likely one-time boost that did not reverse the sharp losses of one of the worst years on record for local manufacturers.
Industrial production in Brazil rose 2.3% in December from November, the highest rate since June 2013, government statistics agency IBGE said on Wednesday.
However output dropped 6.6% in 2016 from 2015, IBGE added.
"Even with that improvement in December, it is still far from a reversal," IBGE economist André Macedo said.
Output grew in 16 of the 24 sectors that IBGE covers. Automobile production jumped 10.8%, the fastest rate since June.
A private survey on Wednesday showed manufacturing activity worsened in January.
The Purchasing Managers' Index compiled by research firm Markit fell to a seasonally adjusted 44.0 in January, a seven-month low, from 45.2 in December.
Production in December retreated 0.1% from a year earlier.