Mexico denies Trump threatened to send troops to stop the "bad hombres"
Thursday, February 2nd 2017 - 11:17 UTC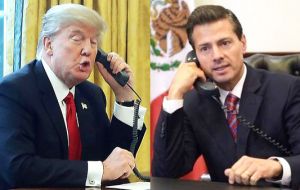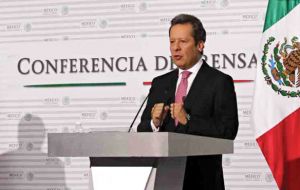 The Mexican government on Wednesday vehemently denied reports that President Trump threatened to send US soldiers into Mexico during a phone call with Mexican President Enrique Peña Nieto. Such a threat "did not happen during that call," said a government statement released on Twitter Wednesday night.
"I know it with absolute certainty, there was no threat," Peña Nieto spokesman Eduardo Sanchez said in a radio interview. "The things that have been said are nonsense and a downright lie."
The Associated Press and a Mexican news website, Aristegui Noticias, reported earlier in the day that Trump had humiliated Peña Nieto during a phone call between the leaders on Friday.
Trump threatened to send U.S. troops into Mexico to stop "bad hombres down there" unless the Mexican military does more to control them itself, the Associated Press said, quoting an excerpt of a transcript of the conversation that it said was obtained from an unnamed source.
The White House would not comment on the purported transcript and denied that the U.S. was planning to invade Mexico. A White House official pointed to a joint statement issued by the two leaders Friday noting they had discussed the need to "work together to stop drug cartels, drug trafficking and illegal guns and arms sales."
Tensions between the U.S. and Mexico, longtime allies, have been dramatically heightened since Trump's inauguration less than two weeks ago.
In one of his first presidential acts, Trump, who as a candidate frequently accused Mexico of sending criminals and drugs to the U.S., signed an executive order calling for immediate construction of a border wall between the countries.
A few days later, he tweeted that Peña Nieto should not visit Washington for a Jan. 30 meeting with Trump unless Mexico was prepared to pay for construction of the wall — one of his signature campaign pledges.
Peña Nieto canceled the meeting, saying Mexico has no intention of paying for a border wall. But last Friday, the leaders appeared to begin mending differences, speaking on the phone in a call that both sides described as productive and cordial.