Tillerson sworn in as Secretary of State; he was approved by a Senate 56-43 vote
Thursday, February 2nd 2017 - 17:53 UTC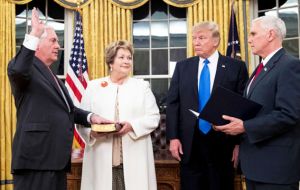 Rex Tillerson was sworn in as secretary of state by Vice President Mike Pence in a ceremony presided over by President Donald Trump at the White House on Wednesday evening. Before Tillerson was sworn in, Trump spoke briefly in the Oval Office.
"Time to take a fresh look at the world around us and seek new solutions grounded in very ancient truths -- these truths include the fact that nations have a right to protect their interest, that all people have a right to freely pursue their own destiny and that all of us are better off when we work in concert and not in conflict," Mr. Trump said. "And there's rarely been conflict like we have in the world today and it's very sad."
In a tweet, Mr. Trump congratulated Tillerson and said he is very excited for him, his family and the country.
Earlier on Wednesday, the Senate confirmed Tillerson to serve as the Trump administration's secretary of state, making him the sixth cabinet nominee to be approved on Capitol Hill.
Tillerson was approved in a 56-43 vote with all 52 Republicans, as well as four Democrats, voting in favor. The remaining 43 Democrats opposed Tillerson. One senator, Chris Coons (D-Delaware), did not vote.
This came about a week after the Senate Foreign Relations Committee voted along party lines 11-10 to advance his nomination to the floor. Senator Marco Rubio joined other skeptical Republicans like Sens. John McCain of Arizona and Lindsey Graham of South Carolina in backing Tillerson to serve as United States top diplomat.
Last month, Tillerson testified at his Senate confirmation hearing about his possible conflicts involving ExxonMobil, his position regarding U.S. sanctions against Russia and his views on climate change.
Tillerson, 64, acknowledged that he would become the nation's chief diplomat at a "pivotal time" and listed a number of "considerable threats" that the U.S. faces, including Russia. He said, "We aren't likely to ever be friends...our value systems are starkly different."
Tillerson's predecessor in the position, John Kerry, was confirmed by 94 to 3. Condoleezza Rice, the last secretary of state nominated by a Republican, was confirmed by 85-13.
Senate Democrats had tried, but failed, to delay the vote on Tillerson because of Trump's executive order banning immigration from seven mostly Muslim countries and temporarily halting the entry of refugees.
They said they wanted to ask Tillerson more questions about the issue after Trump signed the order on Friday, prompting protests and chaos at airports across the country and uncertainty and disruption for travelers around the world.
But Republicans hold a majority of 52 seats in the 100-member Senate, and so far have confirmed all of the six Trump nominees who have come up for votes.