White Paper on Brexit planning to be released on Thursday, announces PM May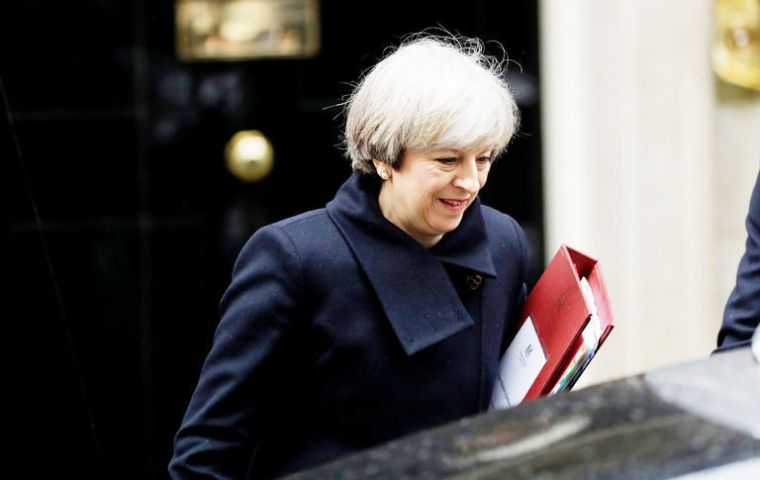 Prime Minister Theresa May has confirmed that Downing Street will publish a white paper on Brexit planning on Thursday. Speaking from the dispatch box at Prime Minister's Questions, May confirmed the arrival of the paper in response to a question from Tory backbencher Maria Miller.
It means that MPs will be able to scrutinize the government's Brexit plan before debating amendments tabled to the Article 50 Bill due to be face a final vote in the House of Commons next week.
The PM said that the White Paper will include the government's approach to the statuses of both EU nationals living in the U.K. and British citizens living in the EU member states and that an early settlement of the issue will be sought at the start of negotiations on exiting the 28-member bloc.
"My intention and expectation is that we will be able to offer that reassurance to EU nationals living in the UK but I do also want to see reassurances offered to U.K. nationals living in the EU," she said.
Also taking questions over the border between Ireland and Northern Ireland, May said she and Irish Taoiseach Enda Kenny both want to ensure there is no "return to the borders of the past" and reiterated their agreement to have a border that is "as frictionless as possible".
May first revealed that the government would publish a white paper last week, building on her landmark address at Lancaster House in January. That speech saw the Prime Minister vost to end the UK's Single Market membership, and suggest that the UK could also quit the Customs Union.
Tory backbenchers including Anna Soubry and Dominic Grieve led the calls for a white paper, with the latter saying that such a document could serve as "a reference point for the government's stated intentions", and facilitate future debate in the House of Commons.