Chile creates new 11.000 km2 marine eco-region in Juan Fernandez Island
Friday, February 3rd 2017 - 11:10 UTC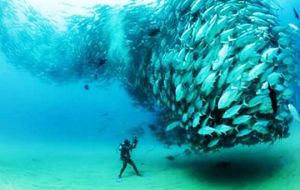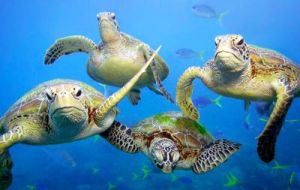 The alfonsin, the orange roughy and the cod, as well as a variety of species of fragile environments, are part of the ecosystem that is now located in the new Coastal Marine Protected Area of Multiple Uses (AMCP-MU) called "Mar de Juan Fernandez", placed in the archipelago of the same name.
The area comprises more than 11,000 square kilometers around the archipelago located 670 kilometers from Valparaiso, and its purpose is to protect this eco-region considered one of the ten priority sites for the conservation of biodiversity in the Region of Valparaiso, and one of the 11 irreplaceable priority sites for marine conservation worldwide.
"Mar de Juan Fernandez" also includes marine parks "Montes Submarinos Crusoe and Selkirk" and the network of parks composed by "Loberia Selkirk", "El Arenal", "Tierra Blanca" and "El Palillo", an area of about 1,000 square kilometers.
This eco-region is located on the migratory route of many other species of great ecological and patrimonial value such as green and black sea turtles, and internationally protected marine mammals such as southern right, humpback, blue and sperm whales, as well as smaller cetaceans like the common bottlenose, the Chilean and the short-beaked dolphins, as well as the killer whale.
The Marine Parks will be under the tuition of the National Fisheries and Aquaculture Service, will be governed by a General Plan of Administration, and the activities within them will be subject to the regulations of the General Law of Fisheries and Aquaculture.
Likewise, considering that the Ministry of Environment has the responsibility of the AMCP-MU, the preparation of the plans for the management and administration will be carried out jointly for the fulfillment of the objectives of creation of these areas, and for the conservation of their ecosystems and biodiversity.
The national director of Sernapesca, Jose Miguel Burgos, highlighted the creation of this marine protected area, "which on the one hand recognizes the work done for decades by the archipelago's own community to take care of its resources and the ecosystem in which they are inserted, and on the other, reaffirms the commitment of this Government to advance in the protection and conservation of our marine ecosystems.
Burgos recalled that this AMCP-MU is in addition to the recent creation of the Nazca Desventuradas Park, in the islands of San Ambrosio and San Felix, with more than 300,000 square kilometers protected. (FIS).