Eric Trump's trip to Uruguay to promote a tower cost US taxpayers almost US$ 100.000
Saturday, February 4th 2017 - 12:29 UTC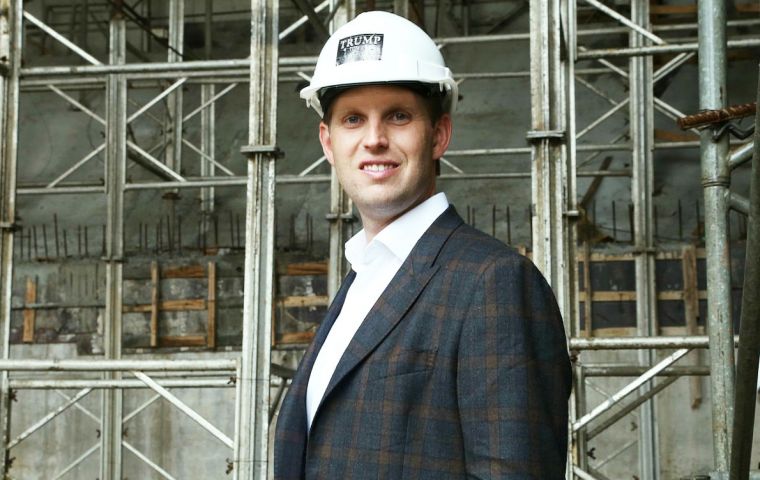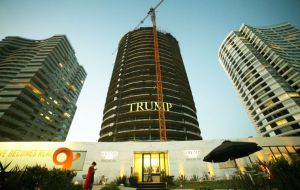 One of President Trump's sons made a business trip to Uruguay in early January that cost taxpayers US$97,830 to put Secret Service and embassy staffers in hotel rooms, according to a new report. Eric Trump visited Uruguay on behalf of the Trump Organization before his father's Jan. 20 inauguration, The Washington Post reported.
In the Atlantic posh resort of Punta del Este, Eric Trump met with real estate brokers, dined at a beachfront eatery and spoke at an "ultra exclusive" party at Trump Tower Punta del Este, according to the report.
The Secret Service spent US$ 88,320 on hotel rooms, according to purchasing orders analyzed by the Post, and the U.S. Embassy in Montevideo paid another US$ 9,510 so staffers could stay in hotel rooms and "support" the Secret Service for the "VIP visit." The president's immediate family receives Secret Service protection by law.
The Post said Trump's stop was brief — as little as two nights — according to a review of local press stories and social media.
The Trumps do not own the Punta del Este project, the Post noted, but license their name to developers there. The 26-story tower is scheduled for completion in late 2018.
The Trump Organization has been paid between US$100,000 and US$1 million for the Trump branding, according to the president's financial disclosure filing in May.
Condos in the Punta del Este Trump tower run between US$ 550,000 and US$ 8 million, it added, and its advertisements list amenities including waterfall pools, a massage room and a private theater.
CEO Juan Jose Cugliandolo said on January 26 his company had sold 65% to 70% of the tower's condos.
President Trump said he would step away from day-to-day operations at the Trump Organization last month before his inauguration. But he has refused to give up his ownership stake, and critics point to the potential conflicts of interest that creates.
Management of the company went to Eric Trump and Donald Trump Jr., who continue to attend official White House events.
As a matter of curiosity it must be said that the developer of the Trump Tower in Punta del Este is the brother in law of Argentina's current Finance minister Nicolas Dujovne.
In effect when recently taking office Dujovne admitted that his brother in law, Moises Yellati is a close associate of the Trump family and is involved in the development of the Punta del Este tower and likewise his parents studio is also linked to the investment since they were responsible for the design of the building.
However, "many years ago I met one of Trump's sons, Eric Trump, but it is my brother in law that is associated to the Trump family in real estate developments", said Dujovne at Government House in Buenos Aires, who added "I have not been in contact with the (Trump) family for a long time".
"I don't think that these business links could have any influence in the relations of Argentina with the Trump family", underlined Dujovne who is married to Carolina Yellati, sister of Moises Yellati.