Temer and Macri meet next week to make Mercosur an effective free trade space
Saturday, February 4th 2017 - 06:47 UTC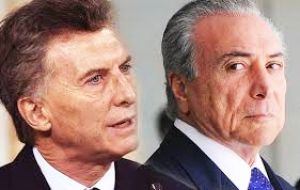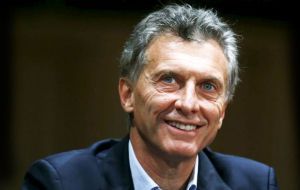 Brazil and Argentina will attempt to eliminate trade barriers which limit or impede Mercosur trade, ensuring a free trade space, "the sooner the better", revealed Brazilian diplomats in anticipation of the presidential summit next week, when Mauricio Macri is received by Michel Temer in Brasilia.
"The intention of both governments is to achieve a free trade zone for all Mercosur goods, and both sides agree that the sooner barriers are eliminated, it's the best possible scenario", said Paulo Estivallet de Mesquita, Brazilian Deputy secretary for Latin America and the Caribbean.
"Whenever possible we will work so that during the Mercosur presidency of Argentina, in the first half of this year, and in the following half, with Brazil in the chair, we can advance the most in eliminating trade barriers between our countries, members of Mercosur", added the Brazilian official.
"I can't anticipate results but we hope both presidents give clear instructions to ministers and effectively announce the beginning of negotiations for the elimination of barriers. We believe no products can be an exception for the free trade space", indicated Estivallet de Mesquita, although admitting it is hard to talk about a timetable.
The official said that no items have been left out of negotiations, "it is a complete new dynamics, it had never happened before, even sensitive issues such as automobiles and sugar have been included in the talks".
Temer and Macri have also agreed that Mercosur needs to open to third markets, and reach agreements with other regions, certainly "more significant" than those so far.
"Besides the European Union there is an agenda of negotiations which involves countries such as Japan, South Korea and Canada, as well as EFTA (European Free Trade Association) members such as Switzerland, Finland and Norway", said Estivallet de Mesquita.
More specifically on discussions with the EU the Brazilian official revealed that despite Mercosur willingness to advance and conclude the agreement, "we are still waiting for the EU to sort out some internal things".
Argentine president Macri is scheduled to arrive Tuesday at 09:00 in Brasilia. He will have a private meeting with Temer, which will later include cabinet members, followed by a joint declaration. Since it is a state visit, Macri will hold protocol meetings with the heads of the Senate, the Lower House, and the Supreme Court.
Macri's delegation includes foreign affairs, finance, production and industry ministers as well a governors from the Brazil neighboring provinces of Misiones an Corrientes, and the member of Congress responsible for links with Brazil.
"It's a highly symbolic visit since it is taking place at a moment of great coincidence in the perceptions of both countries towards how the economy should be organized, the necessary reforms and establishing links with the rest of the world", concluded the Brazilian official.