Argentine lawmakers UK visit "very positive"; all bilateral agenda issues, and Falklands were addressed
Monday, February 6th 2017 - 08:08 UTC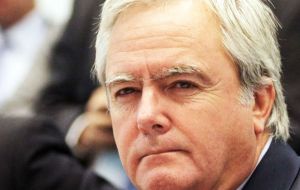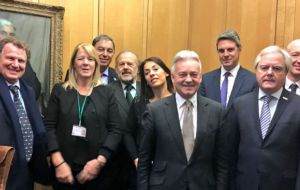 The speaker of the Argentine Senate, Federico Pinedo, described the multi-party lawmakers delegation visit to the UK as "very positive" since issues of the bilateral agenda were addressed, including Argentina's historic claim over the Falklands/Malvinas Islands sovereignty.
"The result was very positive. In moments of deep changes in the world, we confirmed at different levels the strong interest in Argentina and in mechanisms to deepen the bilateral relation", underlined the Senator Pinedo, who added that the task of Argentine lawmakers is from Congress "to help with the international insertion of the country".
The Argentine multi-party group spent six days this week in London and Scotland, as guests of the Inter Parliamentary Union, UK chapter, with the purpose of promoting links between the legislatives of the two countries.
Pinedo insisted that the visit was a step further in confidence building and in addressing issues of the bilateral agenda with UK. It was also pointed out that the Argentine lawmakers also brought up the issue of the historic position of Argentina regarding the Malvinas question, following on what indicates the country's constitution.
Argentine and UK lawmakers underlined the advances in the Red Cross involvement in the issue of identifying the Argentine unknown soldiers buried at the Darwin cemetery, "which will brign peace of heart to their families". In effect this week a two member delegation from the Red Cross is in the Falklands looking into the logistics of the full forensic operation scheduled to begin probably next July.
A further step in the bilateral confidence building and relations improvement process will take place next month when British deputy minister for International Trade will be visiting Argentine.
The delegation headed by Pinedo also included Senators Carmen Lucila Crexell and Rodolfo Julio Urtubey, together with Lower House members, Eduardo Amadeo, Alejandro Grandinetti and Margarita Stolbizer (GEN). The visiting lawmakers were also supported by Argentine ambassador in London, Sersale di Cerisano, and UK ambassador in Buenos Aires, Mark Kent.