First informal contacts of Trump administration with the Argentine government
Monday, February 6th 2017 - 10:06 UTC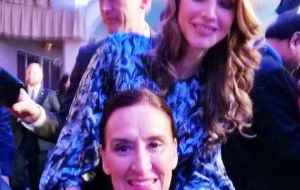 Argentina's vice president Gabriela Michetti was unexpectedly greeted by president Donald Trump and held a brief meeting with her peer Mike Pence last week in Washington during the National Prayer Breakfast, a traditional ceremony held in Washington's Hilton. Michetti later shared lunch with members of the State Department Western Hemisphere Desk at the Argentine embassy.
"It was all most unexpected since I belong to prayers' groups, and there was no previous agenda, besides the fact that is was known Trump, Pence and other cabinet members would be attending"", revealed the Argentine vice-president who moves in a wheelchair.
However unknowingly Michetti figured in a short list of VIPs, with among other vice president Pence, the King of Jordan Abdullah and Queen Rania and several US senators, at hall room.
And then after prayers president Trump turned up, "he shook hands and said it was a pleasure to meet me 'madam'" and went to greet others while vice president Pence "told me he was interested in programming a formal meeting and was looking forward to good relations with Argentina".
"It was brief but a very cordial chat" added Michetti describing what ended up being the first informal meeting of Trump's administration with officials from the Argentine government.
At the Argentine embassy, Michetti met with State Department officials, Tim Stater and Francisco Palmieri, as well as with the ambassadors from Brazil, Uruguay, Paraguay and Ecuador and the president of the Inter American Development Bank.
Apparently one of the issues that was discussed is the fact that Latin America does not seem to be a priority for the Trump administration (except Mexico), and thus the need to agree on a homogeneous block to facilitate links with the new government. Allegedly the US officials believed the initiative was appropriate.