Brazilian inflation drops for the fifth straight month
Thursday, February 9th 2017 - 11:36 UTC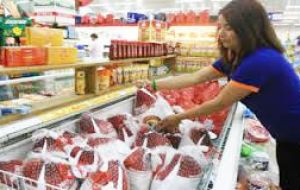 Consumer prices rose less than expected in Brazil in January for the fifth straight month, increasing the chances of steeper interest rate cuts and a stronger economic recovery as the inflation rate falls toward the government's long-missed target.
The annual inflation rate eased by nearly a percentage point to 5.35% in the 12 months through January, government statistics agency IBGE said on Wednesday.
Prices rose 0.38% from a month earlier, the smallest rise for January since 1994.
The surprising pace of the inflation slowdown has boosted consumer and business confidence, helping the economy pull through its worst recession in decades. Lower inflation also comes as relief for unpopular President Michel Temer as he pushes an austerity agenda through Congress.
Markets expect the current goal of 4.5% annual inflation to be achieved in the second quarter, for the first time since 2010.
According to January IBGE, Food and beverage increased 0.35%; Housing 0.17%; Transport, 0.77%; health and personal care, 0.55%; personal expenses, 0.45%; Education, 0.29%; communications, 0.63% while household articles had a negative performance of 0.10% and apparel, 0.36%.
Banco Fator Chief Economist José Francisco de Lima Gonçalves said he saw room for the central bank to accelerate the pace of rate cuts this month to 100 basis points, from 75 basis points at its last meeting. Most economists and traders still expect the bank to keep its current pace of easing.
Inflation is a sensitive issue in a country traumatized by runaway prices in the past. It contributed to the eroding popularity of former president Dilma Rousseff, who was ousted last year, by climbing past 10% until early 2016. Slowing inflation should boost Temer's approval ratings from near-record lows even as unemployment remains high.