Falklands announces new round of demining demolitions
Thursday, February 9th 2017 - 10:32 UTC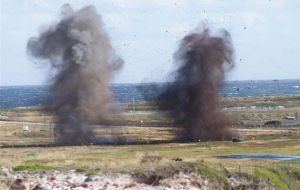 Project Manager for Dynasafe BACTEC Limited, Julius Unsung has notified that the next demolitions as part of the Falklands Demining project are planned for Thursday 9th February 2017 between 10am – 3pm.
There will be two separate sites for the demolitions both of which are behind the Stanley common fence the first is approximately 350m South of the Stanley Gun Club in a location previously used, the second is 650m from the Stanley Common Fence and will dispose of a single item which is unsafe to move.
In accordance with the requirements of our Dangerous Goods Licence, no demolition shall take place without the authority of the Chief Fire Officer who has already visited and approved first site, but will be required to approve the second and separate arrangements will be made for this prior to the demolition taking place.
The initial main detonation will take place at 10.30am followed by a second one at 11.45am, there will then be a move to the next location and this demolition is planned to take place at 2pm with a final small one 30 minutes later.
This is the second demolition so far this year. On Friday January 27 Dynasafe BACTEC Limited completed three demolitions between 10:30 and 12:15 AM behind the Stanley common fence approximately 350m South of the Stanley Gun Club.
In early January a Foreign Office team visited the Falklands and anticipated that 46 minefields will be cleared over the next two years in the Mount Longdon and Stanley. Mines are the long lasting and unwanted legacy of the 1982 war following the Argentine invasion of the Islands.
Currently, Phase 5 which commenced in October last year has removed more than 2,000 anti-personnel mines and over 50 anti-vehicle mines. Phases completed between 2009 and 2016 have cleared more than 30 minefields.