Strike at world's largest copper mine in Chile; long conflict forecasted
Friday, February 10th 2017 - 11:33 UTC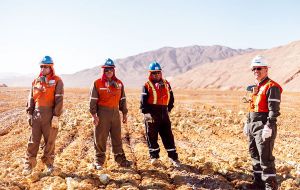 Workers at BHP Billiton's Escondida copper mine in Chile, the world's largest, walked off the job on Thursday in a strike that threatens to disrupt the international supply of the widely used metal. It said no miners arrived for morning work aboard buses that normally carry upwards of 1,200 workers per shift to the vast deposit, which accounted for about 6% of global production in 2015.
The striking workers are building a campsite right outside the mine. The union has warned it is prepared for a lengthy strike, saying it has stockpiled supplies and provisions for 60 days. Escondida's processing plants, which had begun going offline on Wednesday, have completely stopped, the union said.
BHP said in a statement on Thursday it was focused on maintaining "minimum services" at the mine, which typically consist of small teams of workers maintaining upkeep of equipment and making sure the mine adheres to environmental protocols.
The company also said it was continuing work on new construction projects, such as expansions at a concentrator and a desalination plant. It previously said it will not produce copper during the strike.
At a makeshift camp near the entrance to Escondida, which is partially owned by Rio Tinto and Japan's JECO, protesting workers settled in throughout Thursday, equipped with stockpiles of gas cylinders, portable cookers and tents to weather the Chilean high desert's scorching sun and frigid nights.
Among the issues pitting the 2,500-member Escondida No. 1 Union against the company are the distribution of benefits. Workers complain that BHP wants to cut benefits and has not committed to a benefits scheme that places new and longtime employees on equal footing, something the union considers essential.
Striking workers also blocked roads at the Coloso port near the dusty city of Antofagasta, where hundreds of thousands of tons of copper are shipped annually.
Fears of the strike had sent copper prices soaring in recent weeks. Prices for the red metal, however, eased on Thursday as some investors cashed in the previous day's gains.