Malcorra hopes to meet Tillerson and arrange a Trump/Macri summit
Saturday, February 11th 2017 - 10:40 UTC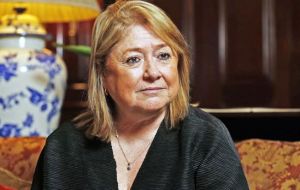 Argentine foreign minister Susana Malcorra said that she will be meeting Secretary of State Rex Tillerson and expects to advance in arranging a meeting between presidents Donald Trump and Mauricio Macri, as had been agreed when the two spoke on the phone in late November.
"When Macri and Trump talked on the phone in November one of the first things that came up was to hold a meeting and the US president was very positive about the initiative. We're exploring how and when this can take place. Trump obviously has a very busy and full agenda, but we are hopeful", said Malcorra who next week travels to Germany for a G20 foreign ministers meeting in Bonn that will be followed by a Security Conference in Munich.
"We are going to meet with Tillerson, and our teams are working on the agendas to see when we can find room, in any of the two scheduled meetings", added Malcorra.
The minister said that at the meeting "we plan to go over briefly over bilateral events in the last fourteen months, to ensure we are on the same level of wave understanding, and to see what other issues the new US administration might be interested in adding. Anyhow Mr Tillerson is no stranger to Argentina, he has visited the country when he worked for the oil industry on several occasions".
"Signals so far have been positive, despite the US president attitude towards Mexico, the wall and the Nafta trade accord", concluded Malcorra.