Brazil deploys federal troops to Rio do Janeiro; fears police strike might spread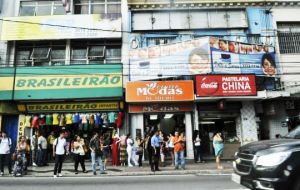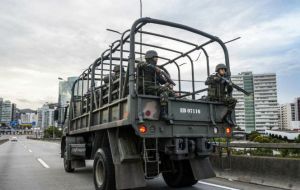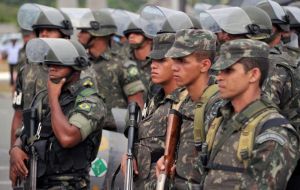 Children returned to school and most public transport began operating again Monday in the Brazilian state of Espirito Santo state, which had been paralyzed by a protest that prevented military police from patrolling. Amid fears a similar protest could erupt in the days before Carnival, the Brazilian government announced it would deploy troops to police the state of Rio de Janeiro.
Businesses were reopening in the Espirito Santo state capital of Vitoria, which the defense minister had earlier described as a ghost town. Many people returned to work and could be seen running to catch buses for the morning commute.
The return to normalcy came as hundreds of military police officers decided to return to duty, even as protests led by their friends and relatives continued outside barracks around the state.
The protesters are demanding higher pay for the police officers, who play a key role in providing security in Brazil's cities and are prohibited by law from striking. Officers claimed the protests kept them confined to their barracks and prevented vehicles from leaving, paralyzing the force for more than a week.
The result was an extraordinary wave of violence in Espirito Santo: Buses were burned, shops were looted, and the union representing civil police said 146 people were killed after the protests began 10 days before. Amid the insecurity, many state services were suspended, and more than 3,000 troops were called in to keep the peace.
Over the weekend, military police started to cross the protest barricades — some were even flown from the roof of their barracks by helicopter. On Monday, the Department of Public Safety said nearly 1,200 were on duty, slightly fewer than showed up a day earlier.
In a news conference Monday, Brazilian President Michel Temer called the police halt "an insurgency against the constitution" and accepted Rio de Janeiro state's request for troops to help police. The agreement was confirmed by Marina Mello, a spokesman for the Defense Ministry. Details of the agreement will be announced Tuesday, Mello said.
Riots have broken out in Rio in the past during state legislature votes on austerity measures. Most Rio officers appeared to be at work on Monday despite suggestions they could launch a movement similar to the one that caused chaos in Espirito Santo.
Rio state police officers have complained about delays in the payment of their salaries but part of that money was expected to arrive in their bank accounts by Tuesday, officials said.