Brazilian currency at its strongest against the US dollar since July 2015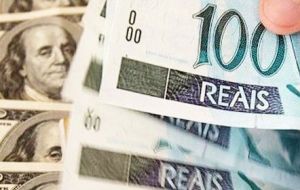 The Brazilian real gained on Tuesday to its strongest level in more than a year and a half, following a rise in capital inflows and after the central bank resumed currency intervention following a two-week pause. The real firmed 0.45% to 3.096 real per dollar, its strongest showing since July 2015.
Gains were limited, though, as the central bank indicated it could allow around US$4.3 billion worth of currency swaps, which function like future dollar sales, to expire next month.
The bank sold US$300 million in currency swaps on Tuesday morning to roll over March maturities. Should it maintain that pace until the end of the month, it will roll over US$2.7 billion of the roughly US$7 billion due next month.
Some had speculated the bank could allow all of those contracts to expire after it refrained from conducting any auctions in recent weeks. The central bank currently holds US$26.5 billion worth of currency swaps on its balance sheet, down from more than US$100 billion two years ago.
On Tuesday, Fed Chair Janet Yellen said the Federal Reserve will likely need to raise interest rates at an upcoming meeting, although she flagged considerable uncertainty over economic policy under the Trump administration.
Yellen said delaying rate increases could leave the Fed's policymaking committee behind the curve and eventually lead it to hike rates quickly, which she said could cause a recession.
The dollar strengthened briefly against the real after her comments, while the Mexican peso also lost ground against the greenback. However, the peso ended the day slightly higher, up 0.14% at 20.25 pesos per dollar.
Investors said they were waiting to see U.S. inflation data due on Wednesday, that would help clarify the Fed's decision-making on future rate hikes.