Falklands' totally financed longliner, CFL Hunter, launched in Galicia
Wednesday, February 15th 2017 - 08:53 UTC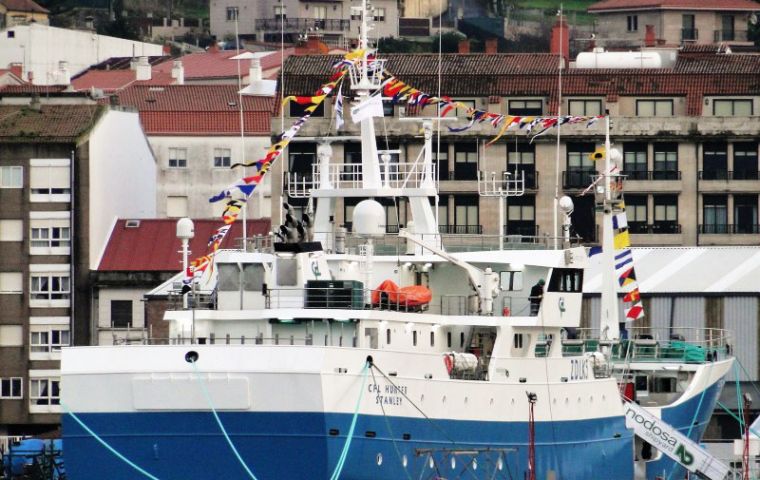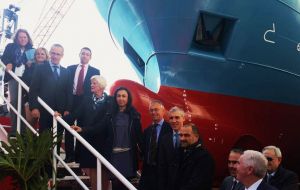 A state of the art longliner, the Falklands "CFL Hunter" was baptized and launched at the Nodosa de Marín shipyard in Pontevedra, in a ceremony that included representatives from Consolidated Fisheries, Falklands lawmakers plus members of the Galicia government and the yard.
The 60 meter vessel for catching toothfish has conditions that make it unique, and difficult to find, said Nodosa commercial director José Ramón Regueira: "it is the first in Spain with diesel/electric propulsion".
CFL chair Tom Blake said the longliner was a milestone for the company since it was the first vessel specially ordered and represented a major investment for the Islands.
However Mr. Blake praised the level of understanding with the Nodosa yard, since it is a very special vessel, which meant both sides had worked closely on what he described as a highly "personalized" order based on a sophisticated refrigeration system, diesel electric technology, besides a clean and silent sailing improving living conditions, and which virtually eliminates discards and protects marine birds.
"The CFL Hunter project dates back to 2013 and came at the best moment for Nodosa, when we were finishing the expansion of our facilities. We have been leaders in design and building vessels for the Falklands and CFL Hunter was the precursor of projects that have put Nodosa at the head of new solutions for a traditional industry" said Regueira.
Member of the Legislative Assembly, MLA Phyllis Rendell who was the godmother of the launching, pointed out "to the long and noble fishing tradition of Galicia, which has taken its art to all corners of the world, and in the case of the Falklands has established close loyal links among our industry and Galician entrepreneurs"
"CFL Hunter is the first vessel paid for entirely with Falklands funds, and built in Galicia, and most probably will be the first of several more to come", added MLA Phyllis Rendell who was unlucky in knocking the baptism sparkling wine bottle, since it finally fell while CFL Hunter started to slide into the Pontevedra waters.
Galicia's Economy, Employment and Industry Councilor Francisco Conde, pointed out the competitiveness and professionalism of the Nodosa yard, which is helping to recover Spain's yards with quality and innovation.
"Galicia has 40% of all naval construction orders of Spain and a third of them are fishing vessels, which is evidence of the thrust and protagonism of Galicia in the industry", said Conde.
See the attach video; https://vimeo.com/205358481?outro=1&ref=fb-sharevimeo.com/205358481