Brexit Minister admits some parliamentary "ping pong", but March timetable stands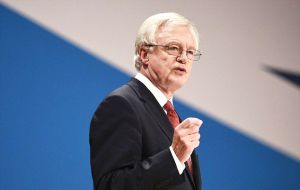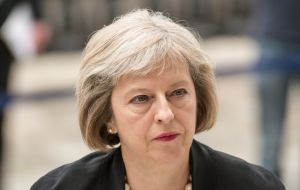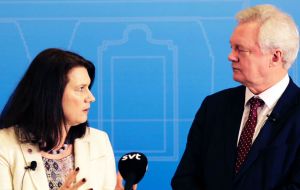 British ministers are braced for a parliamentary battle and are prepared for the Article 50 legislation to be rewritten by the House of Lords, David Davis has indicated. The Brexit Secretary said he expected some parliamentary "ping pong", with the Bill being sent back and forth between the Commons and the Lords, suggesting he expected peers to defeat the Government and make changes to the tightly-worded legislation.
But he insisted the legislation would clear in time for Theresa May to meet her deadline of triggering Article 50 and beginning the formal Brexit process by the end of March, saying he expected the starting gun to be fired at some point that month.
Mr Davis also moved to reassure EU citizens living in the UK that the Government wanted discussion of their rights, and those of Britons on the continent, to be the first item on the negotiating table. That would cover issues including social support and healthcare, he said.
Speaking at a press conference in Stockholm with Sweden's EU minister Ann Linde, Mr Davis highlighted how the European Union (Notification Of Withdrawal) Bill had passed through the Commons "very straightforwardly" with "very solid majorities".
Mr Davis, who has previously said peers have a "patriotic duty" to pass the Bill, insisted they would be allowed to do their job of scrutinising the legislation and, with the Government lacking a majority in the upper house, acknowledged there could be defeats for ministers.
He said the Commons had reached "very clear decisions" and "because of that I expect the upper house, it will do its job of scrutiny, we'll have some passing backwards and forward, we call it ping pong, you can imagine why, backwards and forwards of the Bill, but I expect that to be resolved in good time before the end of March."
He added he was "confident" Article 50 would be triggered on the Government's timetable, but that did not mean the formal notification would be given at the scheduled summit of EU leaders on March 9.
Ms Linde added her voice to concerns about the rights of EU nationals in the UK, pointing out around 100,000 Swedes live in the UK and 30,000 Britons reside in Sweden. She said they "must not become a bargaining chip" in the Brexit negotiations.
Mr Davis said he wanted the situation resolved as quickly as possible, adding: "I don't see any reason for anybody else to hold this up, once the negotiation starts properly."
Pressed on the possibility of the UK facing a Brexit fee, reportedly up to 60 billion euro (£51 billion), Mr Davis said: "We are a law abiding nation, we meet our responsibilities but we are going into a negotiation, so you would not expect me to respond immediately to that.
"We want to have a mutually beneficial long-term outcome and if we have a mutually beneficial long-term outcome I believe all issues can be resolved."