Trump nominates first Hispanic (anb traditional Republican) as Secretary of Labor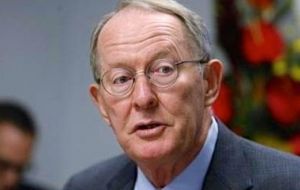 President Donald Trump on Thursday nominated former National Labor Relations Board member R. Alexander Acosta to serve as U.S. secretary of labor, one day after Trump's original choice withdrew. Acosta is dean of the Florida International University College of Law in Miami and is Trump's first Hispanic nominee.
Acosta has had a decades-long public service career, serving in three presidentially appointed and Senate-confirmed positions, and is expected to face a smooth confirmation process.
"Mr. Acosta's nomination is off to a good start because he's already been confirmed by the Senate three times," said Senator Lamar Alexander, who chairs the Senate Committee on Health, Education, Labor and Pensions that will be vetting the nomination.
Acosta was appointed to the National Labor Relations Board (NLRB) by former Republican President George W. Bush, who also appointed him to be assistant attorney general in the Justice Department's Civil Rights Division.
He was then appointed to be U.S. attorney for the Southern District of Florida, where he went after high-profile defendants such as Jack Abramoff and UBS, resulting in the Swiss bank paying more than US$750 million in fines for a tax-avoidance scheme.
Acosta also previously served as a law clerk to Samuel Alito from 1994 to 1995, when the conservative Supreme Court justice was a judge at the 3rd U.S. Circuit Court of Appeals.
"I thank the President and his staff for their confidence in me and I am eager to work tirelessly on behalf of the American worker," Acosta said in a statement.
While at the NLRB, Acosta signed hundreds of opinions. Those familiar with his work describe him as a careful and cautious public servant whose career trajectory suggested he may someday vie for a federal judgeship.
The choice of Acosta, a traditional Republican conservative, is seen by some as a sign that Trump was forced to give up a more aggressive policy on worker issues.
Trump's first labor secretary pick, Andrew Puzder, the chief executive officer of CKE Restaurants Inc, was outspoken in opposition to issues such as overtime pay, minimum wage hikes and even discussed the superiority of robots over human workers.
He removed his name from consideration on Wednesday amid concerns he could not garner enough Senate votes to be confirmed.