World's most modern and largest yacht arrested in Gibraltar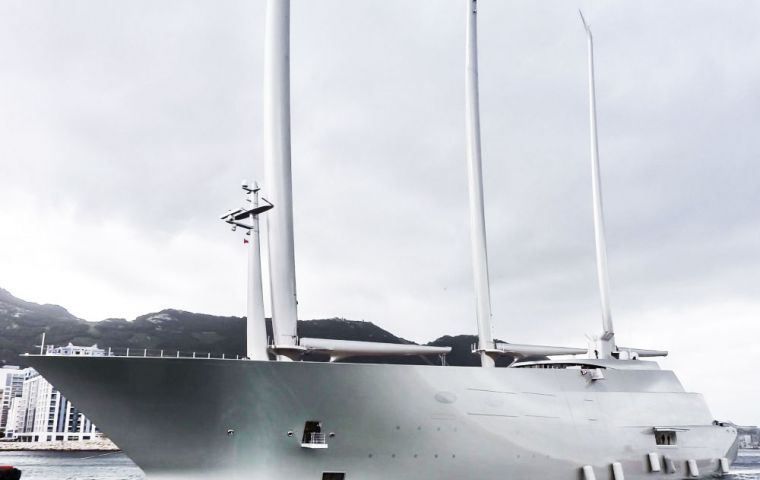 One of the world's largest yachts has been arrested in Gibraltar over a €15.3m admiralty claim filed by the German shipyard that built it. The sleek, futuristic Sailing Yacht A attracted wide media attention when it sailed into port last week for what should have been a short refuelling stop.
But just hours after its arrival, lawyers for super-yacht builder Nobiskrug filed a claim in the Supreme Court against the vessel's "owners/charterers/operators" for breach of contract.
According to court documents, Nobiskrug says the final €9.8m payment of a shipbuilding contract between the yard and Valla Yachts Limited, the vessel's Bermuda-based registered owner, was due on January 27 but has not been paid.
Nobiskrug is also claiming sums of €2.6m and €2.9m which, according to the court documents, are already the subject of a dispute between the yard and Valla Yachts over liability for sub-contractor invoices and disputed variation orders during the building process.
The total sum sought by Nobiskrug amounts to €15,298,297.05 [£12,748,581] plus interest, according to the claim filed by Triay Stagnetto Neish, the Gibraltar law firm acting for the yard.
The vessel is described by Nobiskrug as "the most advanced, sail-assisted superyacht ever built". It measures almost 143 metres in length, with a gross tonnage of 12,600 and a mainmast that towers 100m above the waterline, taller than Big Ben.
The vessel's three masts are the tallest and most highly-loaded freestanding composite structures in the world. The cost of the super yacht has not been formally confirmed but is reported to be as high as €450m.