Ex Royal Marines and Falklands veterans announce dates for historic kayak adventure around the Islands
Wednesday, February 22nd 2017 - 19:14 UTC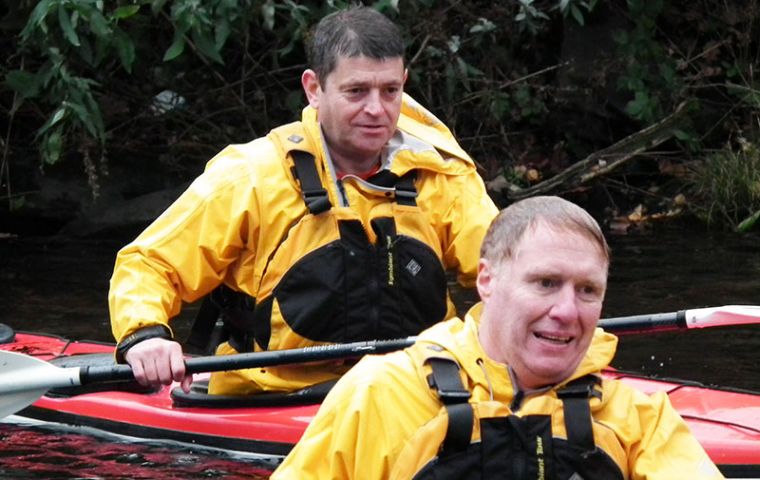 After months of serious preparation we can now announce that the dates for the Cockleshell Endeavour's Falkland Islands kayak have been set. On 12th March two former Royal Marines and Falkland's veterans, Mick Dawson, 50, and Steve Grenham, 51, will leave the UK to embark on a historic adventure which will see them kayak around part of the Falkland Islands, visiting key military sites en route to mark 35 years since the conflict.
The expedition is expected to take 10-12 days and is being carried out to raise awareness of the issue of Post-Traumatic Stress Disorder amongst veterans and serving armed forces personnel. As well as facing freezing conditions, wildlife including orcas and whales, and unexploded mines left over from the conflict, one half of the team, Steve, will also be dealing with his own symptoms of PTSD.
Steve has been affected by the symptoms of PTSD for a number of years, a situation he feels may be relate back to his experiences both in the Falklands' war and tours of Northern Ireland. However, since he has been involved in the Cockleshell Endeavour and training for the Falkland's kayak he has experienced a significant improvement in his symptoms.
Before embarking on this challenge both Steve and Mick were novice kayakers so have had to learn how to kayak effectively as well as train in skills that could potentially save their lives during the kayak. This preparation has involved completing a number of steadily increasing challenges, including competing in The Devizes to Westminster Canoe/Kayak race in April 2015 and The Yukon River Quest in June 2015.
Mick and Steve are using this endeavour to raise money for the Royal Marine Charity. To donate visit https://www.justgiving.com/fundraising/Cockleshell-Endeavour
The number of UK service personnel diagnosed with Post Traumatic Stress Disorder rose by a fifth last year according to Ministry of Defence figures, while there was also a 12 per cent increase in the rate of mental disorders as a whole, including depression and anxiety. However it is believed this figure is actually much higher, with many current service men and women and former members of the armed forces suffering in silence.