Argentina commemorates 113 years in Antarctica
Thursday, February 23rd 2017 - 08:02 UTC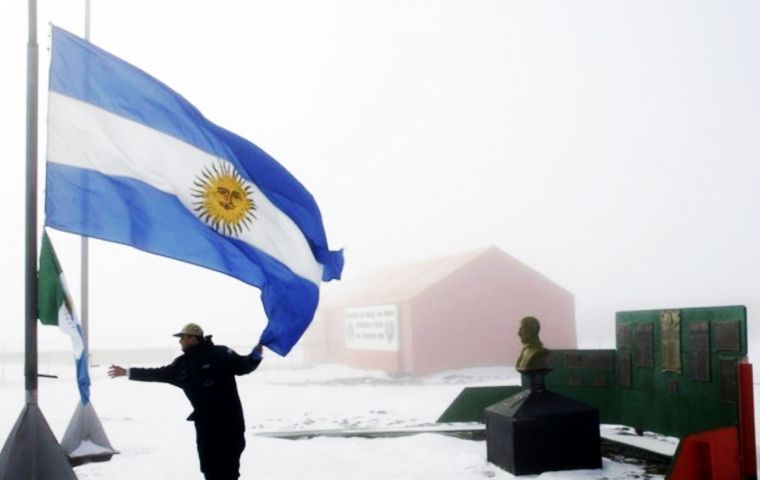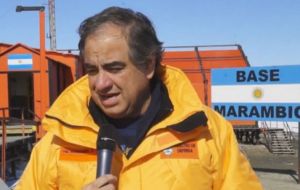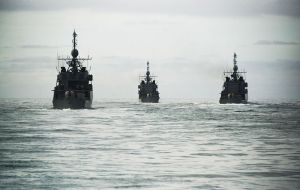 Argentine Antarctica Day was commemorated on Wednesday February 22 with different events recalling the day, 113 years ago when the country's flag was first flown in a met station in Laurie Island, in the south Orkneys. Since then, 1904, Argentina's presence south of 60o. has been uninterrupted, said Argentine defense minister Julio Martínez at the main celebration in the Foreign Affairs ministry.
"Antarctica policy is one of the few State policies that continues despite time and different governments, and gives it sustainability", said the minister during the event next to Deputy foreign minister Pedro Villagra Delgado, Chiefs of Staff and Armed Forces commanders, whom he thanked for all the support during the current 2016/17 Antarctic Summer season.
"We're very grateful to all those who participate, scientists, foreign ministry officials, and particularly Armed Forces" said Martinez who praised them for having gone ahead with this summer's season with their own, scarce, resources.
Argentina has six Antarctic bases with year round activities: Orcadas, Marambio, Carlini (ex Jubany), Esperanza, San Martín and Belgrano II. Plus anothger seven stations, Brown, Matienzo, Primavera, Cámara, Melchior, Petrel and Decepción.
Military personnel, civilians, scientists, ships, aircrafts and helicopters are the logistics support behind the thirteen bases and stations which enables 300 Argentines to continue developing their research and operations during the long dark Antarctic winter.
During the current summer season 2016/17 an estimated 1.800 military and civilians are fully involved during the 130 days campaign, which includes supplying bases and stations with food, fuel, materials and equipment.
However despite all the display the Argentine Antarctic flagship, icebreaker Almirante Irizar, is still in the shipyard following extensive refurbishing to recover the vessel which was almost totally lost in a fire ten years ago. But despite its absence the Argentine forces, according to minister Martinez, appealed to their own limited polar resources and equipment to make up for missing main vessel.
In effect transport vessels "Canal de Beagle" and "San Blas" and avisos recently acquired from Russia, "Puerto Argentino" and "Islas Malvinas", plus an Air Force Hercules C130, a Twin Otter and helicopters are being used to keep the bases supplied.
Apparently 200 tons of food plus 10.000 tons of Antarctic gasoil are being transported this season. However according to Logistics, Emergency and Cultural Performance Secretariat the campaign this season has a 100 million dollars appropriation, but will only be using US$ 72m, and the savings are to be invested in spares for aircraft and helicopters.