Argentina's Macri in state visit to Spain to attract investors
Thursday, February 23rd 2017 - 10:20 UTC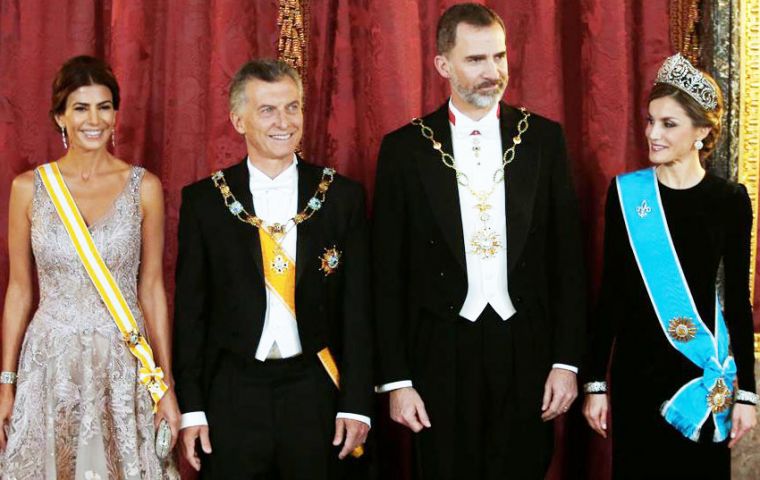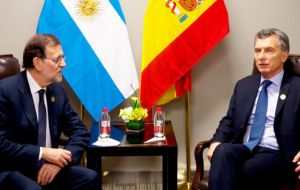 Argentine president Mauricio Macri started an official state visit to Spain on Wednesday and was received with a display of full military honors of the Royal Household at the Royal Palace. Following a meeting with King Felipe, the president left for Congress where he addressed the full house.
Macri was received in Congress by Prime Minister Mariano Rajoy, vice-minister Ana Pastor, and President of the Senate Pio Garcia Escudero.
"Fourteen months ago, Argentina began a historic change. We want to reduce poverty to zero, because a third of Argentines still live in poverty and this is unacceptable. Ending drugs trafficking and uniting Argentineans, these are our three objectives."
Accompanied by more than 200 business leaders, Macri will be focusing his four-day visit on persuading Spanish investors to return to Argentina. Spanish companies such as Telefónica, Gas Natural, Santander and BBVA have a strong presence in Argentina
"We want Spain to occupy the role it once did, we want it to take part in a grand infrastructure plan," said Argentinean Foreign Minister Susana Malcorra at a press conference earlier this week. The objective of the visit, as Spain's Economy Minister Luis De Guindos has already pointed out, is for Argentina to be Spain's "preferential investment destination."
A decade ago, Spain was the number one investor in Argentina, with the country's main businesses in Spanish hands. But over time, the United States has steadily taken over that position, particularly following the decision in 2012 by Macri's predecessor, Cristina Fernández de Kirchner, to nationalize YPF, the jewel in the crown of Spanish hydrocarbons giant Repsol.
Spanish investment, like that of many other countries, has fallen off sharply since 2015, and nobody is expecting major commitments during Macri's political and business meetings this week, because these things take time, and because Argentina is still seen as unstable.
But Spanish Prime Minister Mariano Rajoy, who knows Macri well, will throw his weight behind the Argentine president and his decision to return his country toward liberal orthodoxy after the Kirchner years.
In return, Macri will be offering Spanish companies rates of return they are unlikely to find in many other countries. "We have these margins because we are imperfect: if we were Switzerland, we'd have Switzerland's margins," said Malcorra, who wants Spain to support Macri's proposed trade deal between Mercosur and the European Union.
Macri and his delegation will be meeting Spain's business leaders, and has a scheduled working breakfast with representatives from the Ibex 35 index of leading Spanish companies, many of which already have a strong presence in Argentina, such as Telefónica, Gas Natural, and lenders Santander and BBVA.
According to the Spanish media, Macri's popularity has fallen sharply since he took office a year ago, in large part due to recent controversial decisions related to his family's business dealings. But at the same time, the economy is stronger and inflation, still high, has started to ease.
For the moment, his authority remains unchallenged, largely because of Argentina's fractured opposition, and most analysts believe he is steadily consolidating his position. Notably, he has brought a number of labor leaders with him to Spain in a move that has been interpreted as showing business leaders that he has the support of this traditionally powerful sector.