Donald Trump masks have become a hit of Brazil's Carnival
Thursday, February 23rd 2017 - 10:17 UTC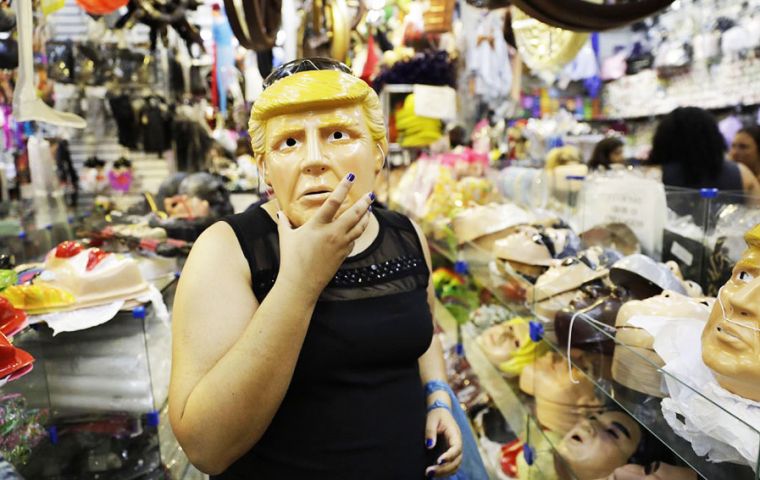 President Donald Trump has become one of the new stars of Brazil's Carnival, with masks of his face on sale in the costume stores in Sao Paulo and appearing everywhere at the street fetes preceding the "world's biggest party," which starts this weekend.
Trump masks are one of the new – and very popular – attractions along March 25 Street in downtown Sao Paulo, full of costume stores and where each day hundreds, flock to purchase items for their Carnival outfits.
With his blond hair and his orange-tinted face, a Trump mask is prominently featured in the display window of an enormous store selling all sorts of costumes, alongside those of other important politicians like his predecessor, Barack Obama, and former Brazilian President Lula da Silva.
"We've already done other presidents like (Bill) Clinton, Barack Obama and now we're also including Trump because he's one of the most controversial," said the owner of the Festas e Fantasias store, Pierre Sfeir, a Lebanese resident.
There are also masks of late Cuban leader Fidel Castro and other even more controversial figures like former Iraqi dictator Saddam Hussein, but the one Brazilians seem to prefer this year is that of the 45th US president.
The store ordered a mold of Trump's face to be made in the US and using it produced about 20,000 masks of the president, which have also been selling like hotcakes at other festivals, like Halloween.
Sfeir said that it's more economical to make the rubberized masks in his Sao Paulo store than to import them from other countries like China due to customs duties. The plastic masks are being sold in Brazil for about 7 reais (about US$2.30)