Ex Falklands governor and local hero dies peacefully in Ireland
Thursday, February 23rd 2017 - 10:38 UTC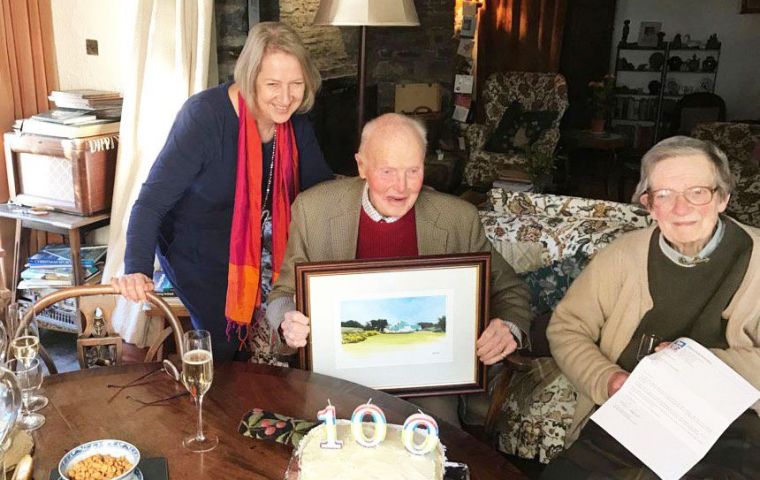 Ex Falkland's governor Sir Cosmo Haskard KCMG MBE passed away peacefully at his home in Tregariff, County Cork, Ireland on Tuesday. Sir Haskard was Governor from 1964 to 1970, an advocate of the Islands and played a major role in preventing the transfer of sovereignty to Argentina. He celebrated his 100th birthday last year.
The Falkland Islands government in a brief release said he is fondly remembered by Falkland Islanders for his strong support in the 1960s in promoting the right of self-determination of Falkland Islanders. "Our thoughts are with his family at this time".
Last December Lady Haskard sent a message from Sir Cosmo thanking the Falklands people and lawmakers for the gift of the painting of Government House for his 100th birthday (November 25). The message was received by Sukey Cameron, MBE, Falklands' government representative in London and stated the following:
"Sir Cosmo Haskard has asked me to send this message of thanks to the people and Legislative Assembly of the Falkland Islands. He greatly appreciates the wonderful gift of the painting of Government House for his 100th birthday.
"It is extremely kind and most thoughtful and is a reminder of the 6 happy years spent in the Islands. We often think of those days with great affection. The picture is hanging in the room in which Sir Cosmo spends most of his time. Government House in Stanley and our house here in Ireland are the two houses which mean so much to us both".
Sir Cosmo Haskard KCMG MBE was Falklands Governor from 1964 to 1970 and was vital in supporting Islanders fight against British Foreign Policy of the time; potentially handing Falklands sovereignty to Argentina.
The situation in 1967 became so serious (a treaty with Argentina was being considered on the subject that included a Memorandum of Understanding relating to the future of Islanders, however Islanders had no knowledge of this) that Governor Haskard insisted on flying to the UK to present his views and that of Falkland Islanders. That visit led to statements emanating from the Falklands to the Commonwealth Office
containing their concerns, and the publicising of the situation to the British people.
The latter brought about the famous photograph taken by the Daily Express of a large crowd at Whalebone Arch in Stanley in October 1968 proclaiming loyalty to Great Britain.
A visit from government Minister Lord Chalfont took place in November in an attempt to persuade Falkland Islanders to accept that an accommodation with Argentina would be to their benefit and that a unilateral statement would be issued that would make it clear sovereignty would not be ceded without Islanders' consent. Islanders were not reassured by Lord Chalfont's proposals.
As it happened Argentina objected to the wording of the unilateral statement and this led to a failure by the two governments to agree on sovereignty. By December the new Foreign Secretary Michael Stewart gave an explicit assurance that HMG would not transfer sovereignty against the wishes of the Falkland Islanders.
Without Governor Haskard having informed Islanders of the negotiations taking place between Britain and Argentina, and representing their views, things might have turned out differently.
Sir Cosmo Haskard has maintained a strong connection with the Islands since he left Gilbert House released the following statement: "Members of the Legislative Assembly would like to congratulate and send our best wishes to Sir Cosmo on his 100th birthday.
"Sir Cosmo is remembered fondly in the Islands and played a key role in our development over a number of years.
"He has continued to be a strong supporter and advocate for the Islands since he left."
FIGO's Representative in London Sukey Cameron visited Sir Cosmo at his home in Ireland and presented him a gift of a painting by Vicky Chater, and the best wishes of the Islands community.