Cuba denies visas to OAS chief, ex Mexican president and ex Chilean minister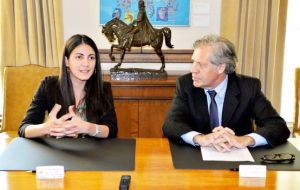 The Organization of American States Secretary-General Luis Almagro said Wednesday that the Cuban government denied him permission to enter the island to receive a human rights prize created to honor late dissident Oswaldo Paya. Mexican ex-President Felipe Calderon and former Chilean Education Minister Maria Aylwin were denied entry to the island the day before.
All three were invited by the Latin American Youth Network for Democracy, whose president is Paya's daughter.
In a letter to Paya's daughter, Rosa Maria, Almagro explained that the Cuban consulate in Washington informed him that he would not be granted a visa and that Cuban authorities considered the purpose of the visit to be an unacceptable provocation.
The OAS secretary-general also said the government in Havana had accused him of involvement in anti-Cuban activities.
"My only additional concern is to ensure there's no type of repression or reprisal against the event's organizers," the OAS chief said.
Paya, the founder of the Christian Liberation Movement, died at the age of 60 in a car accident on July 22, 2012. Cuban authorities blamed the crash on the driver of the vehicle carrying Paya, but the Paya family contends that the Cuban security services were involved in the dissident's death.
Paya emerged as a leading opposition figure in 2002, when he delivered more than 10,000 signed petitions calling for a referendum on democratization to Cuba's parliament.
He was also honored that year with the European Parliament's Sakharov Prize for Freedom of Thought.